Anniversar-Week—23 years!
On September 14, Rebecca and I celebrated 23 years of marriage.   In 1991, in the back yard of our house in Livermore, CA, we had a wedding ceremony surrounded by friends, with "Best People" Doug Beason and Kristine Kathryn Rusch.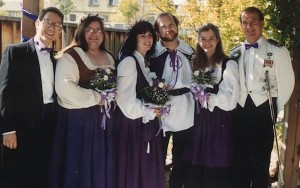 Rather than picking one thing to do to celebrate our anniversary, Rebecca and I have instituted "anniversar-week." We each put down things on an anniversary bucket list, places we wanted to see, favorite restaurants, fun activities, movies to watch. Small but fun things that we do together. And then we spend the week doing as many of them as we can.
We went out to dinner at Tajine Alaimi, our favorite local Moroccan restaurant; one night we made fondue for two at home; we went out to see Guardians of the Galaxy in the theater, and RedBox rented Spider-Man 2, RoboCop, and Captain America: The Winter Soldier (all of which we had missed in the theaters).  We went to a Saturday morning breakfast at the Egg and I, went to another dinner at Rock Bottom Brewery.  We took a few weekend hours at the local Farmer's Market, which we had always wanted to do.  We went to the amazing outdoor wonderland Bass Pro Shop (never been there), which could only be one-upped by another one in Denver, Cabela's Outdoor World—so we did that, too.  We drove up to Denver to have lunch at Fogo de Chao, our favorite Brazilian Steakhouse, then on the way back, stopped at the Godiva Chocolate store. Another night we had a lovely tapas-style feast with cheeses, meats, veggies, dips, fruits, olives, prosciutto, and chocolate.
We toured the Cave of the Winds, which we haven't done in more than ten years, after which we had dinner at an historic Mexican restaurant at creekside. (And after her back surgery, Rebecca did terrific all week.)
Finally, we had dinner at Il Vicino–wood-fired pizza and microbrewery, with Jonathan and Jessica and grandsons Harrison and Xavier (does it get any better).  On Sunday, for the very last part of anniversar-week, Rebecca and I are driving to Pagosa Springs, an amazing hot springs resort in the Colorado Mountains.
Then we'll need to start compiling our list for next year!