Colorado Springs signing added to HELLHOLE AWAKENING tour
We've just added another stop on the HELLHOLE AWAKENING tour, a talk and signing at one of my hometown stores, the Barnes & Noble at Citadel in Colorado Springs, Tuesday April 9, at 7 PM.  Please look at the list of cities below and come out to say hi if I'm in your area.  I'll have some giveaways, will give a talk, answer questions, and of course sign books.
This national tour is for the release of HELLHOLE AWAKENING, but I will be happy to sign your copies of CLOCKWORK ANGELS, the Dan Shamble novels, any of our new Dune novels, Star Wars books, or whatever other titles you have.  I hope to see you there.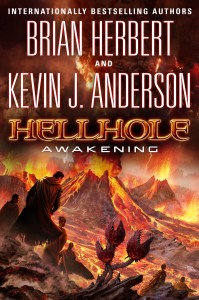 Tuesday, March 26, 7 PM
San Diego, Mysterious Galaxy Books (Kevin)
Portland, Powell's Books, Cedar Hills Crossing (Brian)
Wednesday, March 27, 7 PM  (my birthday!)
Dallas, Barnes & Noble 7700 West Northwest Hwy (Kevin)
Thursday, March 28, 7 PM
Houston, Barnes & Noble, River Oaks Shopping Center (Kevin)
Friday, March 29, 7 PM
Seattle, University Books (Brian & Kevin)
I will be at NorWescon in Seattle as a guest Saturday and Sunday
Monday, April 1, 7 PM
Atlanta, Eagle Eye Books (Kevin)
Tuesday, April 2, 7 PM
Dayton OH, Books & Co at the Greene (Kevin)
April 5–7
Richmond, VA—I will be Guest of Honor at RavenCon
Tuesday, April 9, 7 PM
Colorado Springs CO, Barnes & Noble, Citadel (Kevin)