A Convention and Book Tour in Poland
I was asked to be author guest of honor for Falkon, one of the largest SF conventions in Poland, held in the city of Lublin, and I gratefully accepted. I've never been to Poland (never even been to Eastern Europe before), and a writer needs to experience new places, cultures, people, traditions, all as ingredients for creating worlds.
The Falkon people made the arrangements and sent me money to buy my plane tickets (much cheaper if booked in the US); my Polish publisher Rebis also contributed, and I looked forward to the trip. Everything was arranged, but I had little communication from my hosts, didn't know much about my schedule or obligations but I optimistically hoped everything would be just fine. "All is for the best," as the Watchmaker would say in CLOCKWORK ANGELS.
A very dedicated Polish Dune fan, who goes by the name of Kwisatz, contacted me by email ahead of time to see if we could get together while I was in Warsaw so I could see his Dune collection.  He and his wife "Chani" had gotten together because of their mutual love of the Dune universe. I told him I hoped we could make the arrangements, but I couldn't make detailed plans because I didn't know my schedule yet.  On the last morning before my departure I received word that someone from the Polish Garrison of the 501st Legion would be picking me up from the airport. I passed along the contact information to Kwisatz, hoping we could work out a time, perhaps for dinner on Thursday (I was due to arrive at 12:30 PM, so that would give me all afternoon to decompress and get rested).
But, the best laid plans…  I flew from Denver to Chicago, caught my connecting international flight. The plane taxied out onto the runway—and stopped. Some mechanical problem. We sat on the runway for more than half an hour while they tried to fix it, and then we all groaned as the plane turned around and returned to the gate (but because the gate was no longer available, we waited another half an hour before they could even begin repairs). Since I had only an hour and a half to catch my connecting flight from Amsterdam to Warsaw, I knew that connection was already blown.  Then they told us all to deplane and wait for further information (never a good sign…the "further information" was basically just "please wait").
Most nerve-wracking, though, was that I had no way to contact my Polish hosts to let them know of the problem. Fortunately, I was able to get online again and send a message to Kwisatz, who busily took care of the details from Warsaw.  The flight was rescheduled to take off three hours later, and from the United Customer Service desk, I booked a new connection to Warsaw—one that would arrive at 9:45 PM instead of just after noon.  I'd have a lot of hours to kill in the Amsterdam airport and I was going to be exhausted…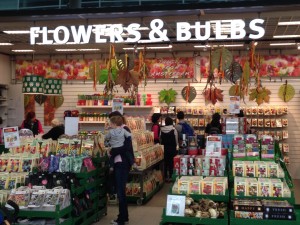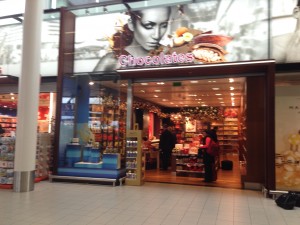 Interesting shops in the Amsterdam airport
But when I arrived in Amsterdam, United had aready booked me on an earlier flight on another airline to Warsaw, so I had only a few hours to wait—which was good news, except for the fact that Kwisatz and Kacper (my 501st host) had already juggled all their plans to pick me up at the later time.  I found a spot in the Amsterdam airport where I could log on, sent another email to Kwisatz who again set about adjusting plans.  Brian Herbert often says "travel is about solving problems" and that indeed proved to be true.
I had brought with me the last 500 pages of my DARK BETWEEN THE STARS copy-edited manuscript, which I needed to read, and after that I had the complete set of galleys for MENTATS OF DUNE, also for proofreading, so I had enough work to keep my eyeballs busy during any downtime.  And I had more downtime than I had anticipated.
But, I did arrive intact in the late afternoon, my suitcase had been transferred, I made it through customs without a hitch, and was immediately greeted by smiling Kwisatz and Kacper. The most challenging part about my adventure in Poland was just getting to Poland. After that it was all good.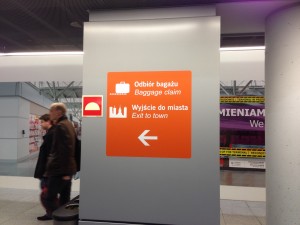 Even after all that, I was feeling surprisingly fresh and awake (I did manage to sneak a quick shower in one of the public stations in the Amsterdam airport), and I had informed Kwisatz that I felt up to joining him and his wife for dinner after all. After I checked into my hotel (an extremely tiny room, but after my long ordeal from airplane to airplane, it was warm and cozy and had what I needed), I went with Kwizatz to his home where we enjoyed a very fine dinner of meats, appetizers, home-preserved fruits, pastries, Polish beer, and some home-made fruit liqueurs.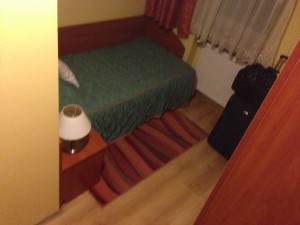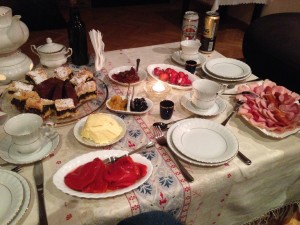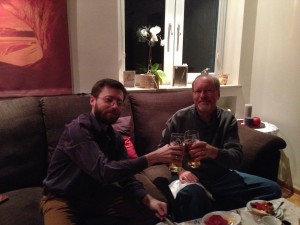 Kwisatz showed me his astonishing collection of Dune materials (including many items I had never seen before), had me sign many of his books—including a 9-volume Braille edition of HELLHOLE AWAKENING. The Polish editions of the Dune books all have cover paintings and interior illustrations by a famous Polish artist, Siodmak, and Kwisatz works with the artist as his representative. I saw many of the original sketches for the artwork.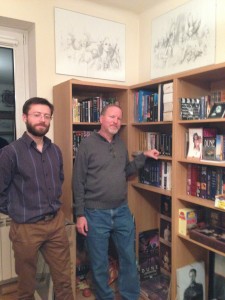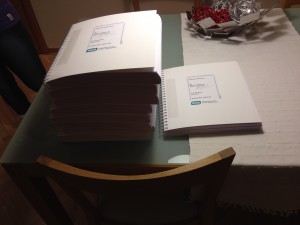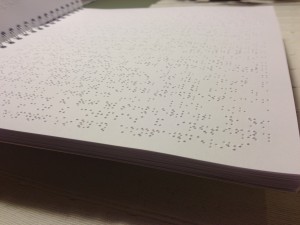 But, it had been a very long day (literally…about 30 hours in transit) and I was ready for a good night's sleep. The next day I would have to be alert and coherent for a series of interviews.
My first day in Warsaw was spent almost entirely in the Radio Cafe, a coffee shop where I met with a succession of interviewers, starting with my Polish translator (who had me sign some of my books that he had translated), two Polish science fiction magazines, and a newspaper.
Late in the afternoon, it was time for the three-hour road trip from Warsaw to Lublin, where Falkon was being held, and I would be chauffeured by the 501sters. Mark our driver (who thought he was a real TIE fighter pilot and drove accordingly), Kacper, and his wife Ola. With the car loaded up, all their costumes and equipment and my suitcases, we headed off on the three-hour drive (in the dark and rain, so I didn't see much of the Polish countryside).  Near Lublin, all of the other 501sters rendezvoused at a large traditional Polish restaurant, which was AWESOME, huge portions, good Polish beer, great flavors.  I was absolutely stuffed.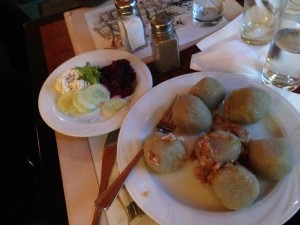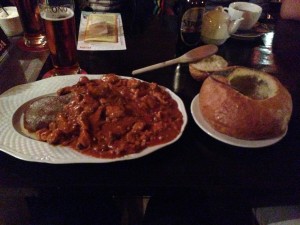 Mark, our TIE-Pilot driver
Dinner with Polish Garrison members, 501st Legion
We finally got me to my Lublin hotel at about 9 PM. I was trashed and jet-lagged, and very happy to see the inside of my room, where I went quickly to sleep…only to be awakened at 2:30 AM when the wakeup alarm started blaring (helpfully set by the previous tenant but not turned off…grrrr!) I was groggy at breakfast, but revived myself with a succession of cups of coffee.
Then Kacper and another 501st driver took me off to the convention center for the first day of Falkon.