A Day in Rye
After our panels, signings, and interviews at the SFX Weekender, Rebecca and I had a free day on Saturday to explore the medieval town of Rye, not far from Dover.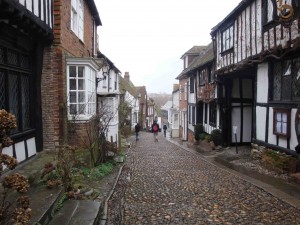 Our hotel, the Mermaid Inn, was an extremely old hotel on a breathtakingly quaint (I mean that in a good sense) narrow cobblestoned street.  It was originally built in the 1100s and "remodeled" in the 1400s, although I believe the indoor plumbing, electricity, and wireless internet must have been added somewhat later.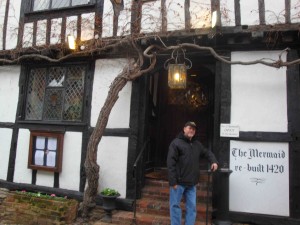 Our room was a grand, colorful suite where the Queen Mum had stayed in the 1980s and Johnny Depp had stayed more recently.  Very nice, although in a building so old, everything creaks—the floors, the doors, the beds, the windowpanes, especially with a highly gusting wind rattling the windows.  We ate a fine dinner in the hotel restaurant (I had Dover sole from just down the coast, as well as a tankard of "spotted hen" beer from the oldest brewery in England, just down the street in Rye).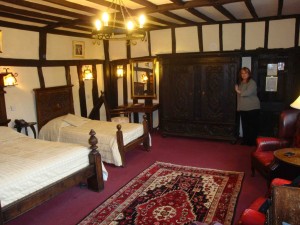 With nothing on the schedule for the first time all week, we allowed ourselves to sleep in and had a full English breakfast in the inn, worked for a bit in the room, then went out to explore the town.  We had a few hours before the car came for us at 3 PM.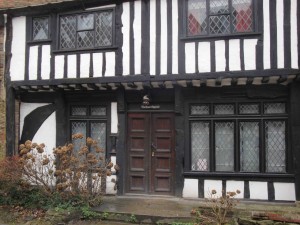 The town is very small, very ancient, and full of character.  We walked the (very slippery, rain-slick) cobblestone streets past the house of Henry James, then to an old graveyard and an impressive central church.  We climbed to the top of the church tower for a great view of the city, the estuary, the salt marshes.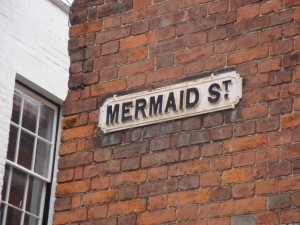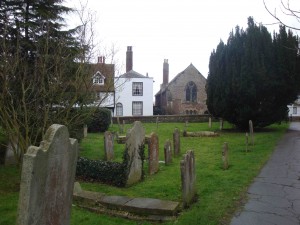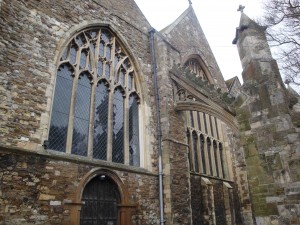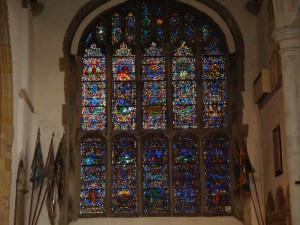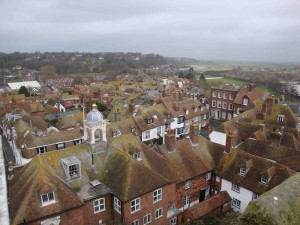 Next we walked to the Rye castle and museum, then explored more streets and shops before stopping for lunch in a nice Thai restaurant, after which we made our way back to the inn.  They made us comfortable in a cozy lounge with fireplace until the car arrived.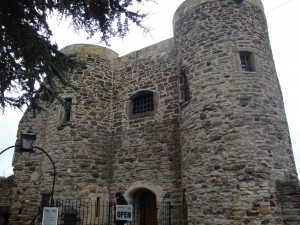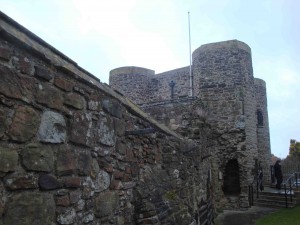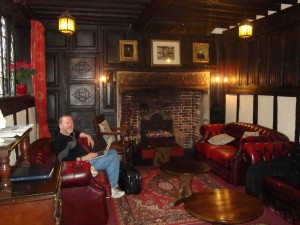 The driver himself had come from London and had never been to Rye; even he seemed impressed.  "It's like we traveled back in time by centuries!"  On the two-hour trip back to Heathrow, I was able to edit two chapters on the laptop, then we checked in to the hotel (getting up at 4:30 AM for our flight home).  A friend of ours, Steve Rothman, met us for dinner in the restaurant, and now it's time to repack and get ready to go.
Of the five trips we've taken to the UK so far, I think this has been the most enjoyable.  The reception I got from the fans, bookstore owners, and publishers at every stop was fantastic.  Thanks for making us feel so welcome.