Doing Dallas for HELLHOLE
Two cities left of the 13 cities, and I still have energy.  In fact, with great turnouts in Chicago and Atlanta, I got a boost to keep trudging along on the marathon.  And last night's signing in Dallas drew the biggest crowd of the whole tour—so far. Houston, you have a last chance to kick it up a notch tonight.
When I started out on this journey, it sounded like a good idea to post a blog with photos every day.  Within a few days, however, I began to realize that I had locked myself in.  Each night before I go to bed (at whatever time it happens to be), I dig out the cable and download all the photos from the camera; each morning, after getting up early and throwing everything back into the suitcase, I type these summaries in the back seat of the cab taking me to the airport.  After I check in and get through security, I find a place with a wireless signal (often a weak one) and upload the blog and optimized photos…often sweating and watching the progress bar crawl while my flight is being called and I'm supposed to get on the plane.
But I hope it gives you thorough picture of just what's involved in meeting the fans and promoting a book.  A writer no longer gets to relax in an isolated cabin while the publisher does all the promotion; a large share of that is now part of a team effort (and sometimes the author has to do it all himself).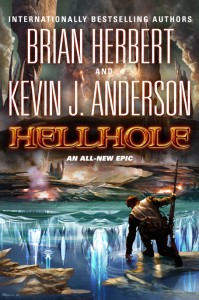 I flew from Atlanta to Dallas on American Airlines (I almost always fly United), and was pleasantly surprised to find that American has planes equipped with WiFi during the flight. Twitter and some services were free, or full web/email access was $9.99.  How civilized—United, get your act together!  (And stop telling me I have to switch off my Kindle reader during the beginning and end of the flight…it has the energy output of a digital watch, and you're worried it's going to bring down the plane?)  During the flight I did another revision of the Writers of the Future intro video script, answered the questions in an interview, and actually took some time to read part of a book manuscript from new author Saladin Ahmed (whose writing I very much admire).
After gathering my luggage, I met Kathleen, my media escort for the day. Because of the sprawling urban area around Dallas-Fort Worth, it would take us a long time to get from one store to the next, so we could reach only six dropby stores that day.  We managed two before lunch—and that one was a milestone, the one hundredth bookstore we had hit since the release of Hellhole.
Then I allowed myself a treat, having lunch with my friend Marisol Nichols—a Terra Incognita fan and a talented actress, who has been in The Gates, 24, Blind Justice, and others; she's in Dallas shooting the pilot for a new show based on the bestselling book Good Christian Bitches (the show is from the creator of Sex and the City).  It was an oasis of non-work…and then Kathleen and I were off to visit more bookstores (four total that afternoon).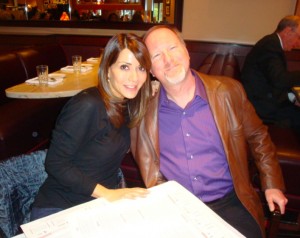 With Marisol Nichols
For dinner I met with two alumni from the Superstars Writing Seminars, Gama Martinez and Stone Sanchez, who live in the Dallas area.  We went to a local barbecue place…I was in Texas, after all.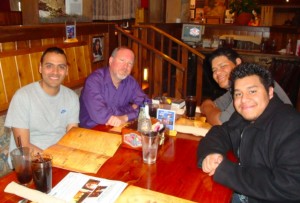 Gama Martinez, Kevin J. Anderson, Stone Sanchez, Dominic Sanchez
The signing venue, Borders in Allen, TX, was already crowded by the time we arrived.  I realized that I haven't been to the Dallas area for a signing in about fifteen years.  My last time here was for my space-shuttle thriller Ignition, written with Doug Beason, and since I had been receiving a lot of mail from fans asking why my tours never go to Texas, I asked Tor to add Dallas and Houston to the circuit.  A good choice!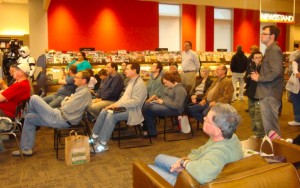 I went into the bookstore's back room to say Hi to the 501sters who were changing into armor and outfits—ten troopers, bike troopers, TIE pilots, a crimson Imperial guard, a Darth Vader, and four Mandalorian bounty hunters, fourteen in all.  They gave me a Star Garrison polo shirt with my initials embroidered on the sleeve (and yes, at this point in the tour, I could use a clean shirt!).  The full contingent escorted me out to the podium for my talk.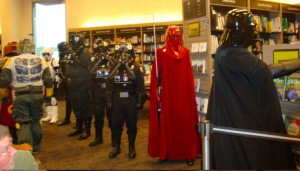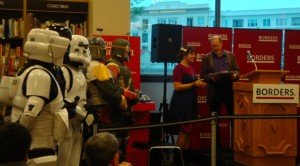 The audience took plenty of photos of the Star Wars characters, and I posed with the full group, then with just the four Boba Fetts.  They surprised me by presenting a beautiful engraved plaque inducting me as an honorary member in the Mandalorian Mercs, the Star Wars fan contingent of Boba Fett/Mandalorian costumers. I've been an honorary member of the 501st Legion for some time, and I am very pleased to be included among the bounty hunter scum as well.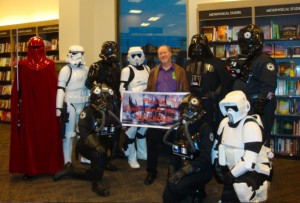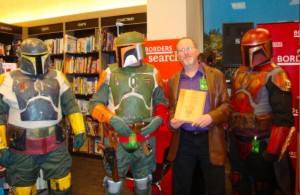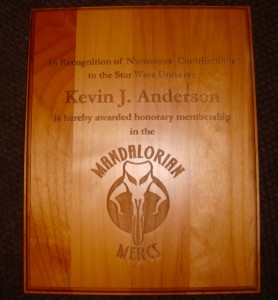 I stayed late to autograph everybody's books as well as the store stock—a wide range of Dune, Seven Suns, Terra Incognita, Star Wars, Batman and Superman…several of the stormtroopers asked me to sign the insides of their helmets.  Kathleen finally dropped me back at the hotel by 10 PM, and I took the time to unpack and then repack my whole suitcase.  (I hadn't been able to do anything more than rummage for new clothes in days, and by now it was getting disorganized.)
Then to bed for six hours before getting up again for the trip to Houston, the last stop on the tour.  Tonight at 7 PM.  Barnes & Noble, River Oaks Shopping Center, 2030 W. Gray Street, Houston, TX 77019