Free Zombies!
Zombie detectives, that is!  As we shamble toward the release date of SLIMY UNDERBELLY, the fourth Dan Shamble Zombie PI novel, Kensington is doing a big promo push for the series.  Right now, you can get the Kindle version of the first novel, DEATH WARMED OVER,  for *free*.  Download your free Kindle copy here.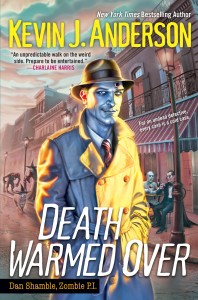 If that's not enough fresh brains for you, Kensington has also dropped the price of the next two novels to only $2.99. UNNATURAL ACTS and HAIR RAISING
Still not enough undead cases? Three Dan Shamble solo adventures are available for 99¢ – $2.99.  STAKEOUT AT THE VAMPIRE CIRCUS, ROAD KILL, and NAUGHTY & NICE
You should have just enough time to read them all before SLIMY UNDERBELLY comes out at the end of the month, just in time for DragonCon!