A GAME OF AUTHORS—another lost Frank Herbert novel
Before the publication of his masterpiece DUNE, Frank Herbert wrote four complete novels that were never released, as well as numerous short stories. WordFire Press has been working to bring these lost works into print.  Next up is A GAME OF AUTHORS, previously unpublished—a Hemingway-esque thriller about an author held hostage in Mexico.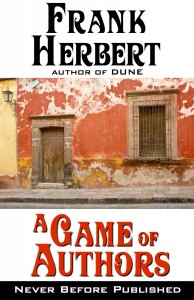 WordFire Press will release this in a month, in both print (trade paperback) and eBook formats.
We have recently published two other previously unknown Frank Herbert novels, the science fiction dystopia HIGH-OPP and jungle survival thriller ANGELS' FALL.  Both are available in print and eBook formats.