The Glamorous Life
A few years ago, I went on an extensive national book-signing tour for my novel Ai! Pedrito!—the tour in which I set the Guinness World Record for the "largest single-author book signing."  We hit 27 cities in 28 days—and I remember my neighbor grinning when I told her about the upcoming trip. "Oh, how glamorous it must be!  27 cities in 28 days!"
You can always identify the people who don't travel often….
I'm now sitting in a hotel room in Hollywood, just arrived an hour ago, and will be teaching and presenting an award for the Writers of the Future workshop.  Tired, scrounging the reserves of energy, and I know I'll be done and able to stay home for a few days as of Monday.  I've been on the road almost non-stop since March 25 for the HELLHOLE AWAKENING tour.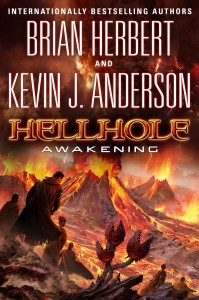 Before I left on the tour, I put in a lot of extra hours at the keyboard to finish my edit of the sixth draft of MENTATS OF DUNE, a 630-page manuscript. I wrapped that up and handed it off to my test readers—and then the test readers met with me for eight hours to go over all their comments on the 850-page manuscript of THE DARK BETWEEN THE STARS, which I would be working on during my tour.  I spent several days combing through their marked-up manuscripts, keying in easy changes, pulling out notes of larger rewrites, then got all of those papers together, put the current file on my laptop, and packed my suitcase.  I had already packed and shipped out "goodie boxes" of door prizes and giveaway materials for all the bookstore stops on my tour.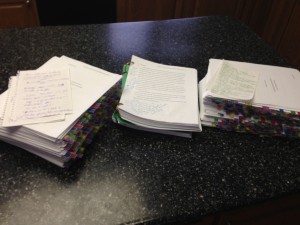 Tuesday March 25 I was dropped off at the Denver Airport for an early flight to San Diego, rented the car, got to my hotel, took a quick shower, changed clothes, drove to dinner then went to my evening signing at Mysterious Galaxy Bookstore.  Back to the hotel room at 10 PM.
Got up at 4:30 AM to check out, return the car, get to the airport for an early flight to Dallas.  It was my birthday, but when the alarm went off it didn't feel like much of a celebration.  Landed in Dallas, rented the car, got to the hotel room, had a wonderful couple hours of downtime before I went off to meet 27 friends and members of the 501st Legion who all got together for dinner at the Cheesecake Factory. Great signing at the Barnes & Noble, about 80 people, then back to the hotel room to bed…and up again for an early flight to Houston, where I took a cab to the hotel, met up later with some Rush fans for dinner at a barbecue joint, booksigning at the Barnes & Noble, back to the hotel, got to bed.
Up again early for a very long flight to Seattle, arrived after lunch, met up with Brian Herbert for most of the afternoon where we brainstormed NAVIGATORS OF DUNE and took a lot of notes. We went to dinner with Brian's wife Jan and University Bookstore's Duane Wilkins, did a signing, went back to the hotel, which was gearing up for Norwescon—the Pacific Northwest's largest SF convention, where I was a guest that weekend.  Saturday and Sunday I was on several panels at the convention, did a reading of a new Dan Shamble story, had lunch with a Rush webmaster, had dinner with a space advocate—during which I realized my voice was going.  I was coming down with laryngitis.
Monday morning, I got up for my flight to Atlanta, and found that my voice was almost entirely useless. Not a good sign for the appearance that night! I also had a TV interview scheduled for Dayton OH the next day…how could I appear on camera?  A doctor friend met me at the airport and gave me a treatment that helped the voice a little bit, so I was able to rasp my talk through a microphone in the bookstore. Then went to a local brewery for some beers with friends. Total of 10 hours in the hotel room before I was checked out again.
Next morning, I got up at 5 AM to make my flight to Dayton in order to reach the TV station on time for the lunch interview…and fortunately my voice was a little better.  Did the interview, went back to the hotel, got ready for the evening signing, did another raspy talk with the microphone, returned to the hotel for an OK night's sleep and then I flew home!
For 14 hours. Rebecca picked me up at the airport, we grabbed an early dinner on the way home, unpacked the suitcases, did four loads of laundry, repacked the suitcases, went to bed, got up early for our all-day flight to Richmond VA where we were guests of honor at RavenCon all weekend. We had a table in the dealers' room, numerous panels, workshops and readings…and my voice was still awful, not to mention I started running a fever.  Then Rebecca started to get sick.  By the time we flew home Sunday night,  I had a terrible sore throat and conjunctivitis in both eyes (so they were a bright demonic red).  We got home after midnight.
Monday morning I went to see the doctor, got a prescription for antibiotics, caught up on all the mail and email and million little things that had piled up around the house.  Now Rebecca was also losing her voice.  Tuesday a blizzard hit Colorado Springs and Denver, causing major delays at the airports…but we had a signing scheduled that evening.  A group of 501sters were already planning to come, and we had sent out a mailing to all of our friends, so we didn't dare cancel.  Feeling like death warmed over (in training for another Dan Shamble book, I suppose), I went to the signing (about 45 people, despite the harsh weather), signed books, then went home to get a good night's sleep.
Wednesday we had dinner with June Scobee Rodgers from the Challenger Learning Centers, her son (a brigadier general), another NORAD general, a billionaire civilian astronaut, a NASA scientist, two "colonists" who had lived in the Biodome for two years. Rebecca's voice was entirely gone now, and she could barely croak out an answer to questions.  We got home by 10 PM and then packed for our next flight to LA, for Writers of the Future.
And I'm supposed to be getting writing done during all this!
I think I'll do a little editing now. I don't have to be on stage for another hour or so.