HELLHOLE AWAKENING—Only One Month Until Release!
Are you ready when all hell breaks loose? One month from today, March 26, HELLHOLE AWAKENING hits bookstore shelves!  I will be launching the book tour with a signing in San Diego at Mysterious Galaxy Books, and Brian will launch in Portland, OR, at Powell's Books.  We hope to see you at one of our appearances: full list below.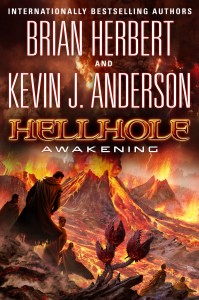 If you would like a free download sample of the first two chapters of HELLHOLE AWAKENING, enter your email address at the top of the WordFire homepage.
If you haven't read the first HELLHOLE yet, the eBook version is on special this month for $2.99 (in the US) in most eReader formats.
See us at one of our stops on the HELLHOLE AWAKENING tour:
Tuesday, March 26, 7 PM
San Diego, Mysterious Galaxy Books (Kevin)
Portland, Powell's Books, Cedar Hills Crossing (Brian)
Wednesday, March 27, 7 PM  (my birthday!)
Dallas, Barnes & Noble 7700 West Northwest Hwy (Kevin)
Thursday, March 28, 7 PM
Houston, Barnes & Noble, River Oaks Shopping Center (Kevin)
Friday, March 29, 7 PM
Seattle, University Books (Brian & Kevin)
I will be at NorWescon in Seattle as a guest Saturday and Sunday
Monday, April 1, 7 PM
Atlanta, Eagle Eye Books (Kevin)
Tuesday, April 2, 7 PM
Dayton OH, Books & Co at the Greene (Kevin)
April 5–7
Richmond, VA—I will be Guest of Honor at RavenCon
Tuesday, April 9, 7 PM
Colorado Springs CO, Barnes & Noble, Citadel (Kevin)