HELLHOLE Book Tour: Home Again in Denver, for 1 Day
The prospect of going home again is worth getting up at 4:30 AM.
I left the hotel in San Diego with my suitcases by 5:20 AM, then took a cab to the airport for my early flight back to Denver.  So far, by taking lots of vitamin C, some zinc, and frequent use of hand sanitizer, I have managed to avoid getting sick; on tour, when I meet so many people, shake so many hands, and spend so much time in public places, I invariably catch some kind of crud.  I'm doing my best preventive measures right now, although my eyes are scratchy and I have a couple of other signs of a cold sniffing around and looking for an opportunity. Extra vitamin C and zinc today.
Rebecca picked me up at the airport—a very happy sight—and we got back to our house by 12:30, whereupon we immediately unpacked the suitcase and sorted the laundry. Rebecca's mother Louise came over to help with the washing, while I caught up on some letters, household emergencies, and email that I couldn't do on the road.
During the many dropby signings in the first week, Brian and I used up all 1800 of my Hellhole/Dune two-sided bookmarks, so now I had to reload for the second half of the tour.  Also, while we visited the numerous bookstores, I've been very pleased to see a wide distribution of my ecothriller Ill Wind, with Doug Beason, about a large oil spill in the San Francisco Bay and extreme measures used to clean it up (resulting in a plague that destroys gasoline and plastics).  After the Gulf of Mexico BP oil spill, Tor reissued the paperback; the ebook is also available for most ereader formats.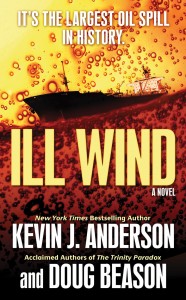 Once I was back home, the cats explained how much they disliked having me away for such a long time; I promised them that I would never leave again (fortunately, cats have very short memories).  It was nice to hang around the house in comfortable clothes for a few hours…and then I had to get dressed in nice clothes again, so Rebecca and I could head out to our evening signing at Denver's Tattered Cover bookstore.
We met our writer friends David Boop and Alan and Becky Lickiss for dinner beforehand, while we watched a hailstorm outside.  (Later that night I received an email from a fan who had been planning to drive two hours to the signing from Leadville, a small town up in the Rocky Mountains, but the bad snowstorm had made driving too treacherous.)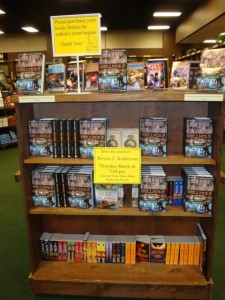 At the store, three fully costumed Star Wars fans had arrived, a TIE Pilot, a Tusken Raider, and a snowtrooper.  They escorted me up to the podium and stood behind me (adding their own peanut-gallery comments during my talk). Alan Lickiss took photos throughout.  Afterward, I signed everybody's books.  Several Colorado writers' groups had passed around the news about my signing, and so we also had quite a few writers there who were interested in the next Superstars Writing Seminar in Las Vegas, April 2012.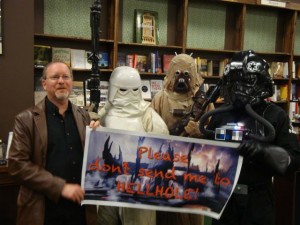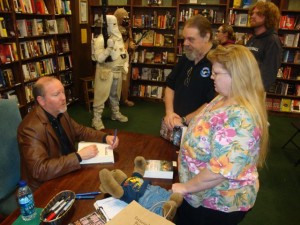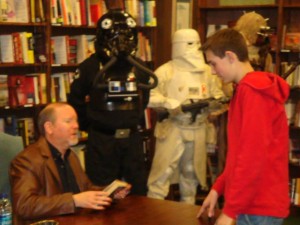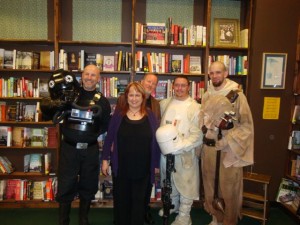 The 501st members unmasked! With Kevin and Rebecca
I was anxious to get home again for a nice bath and to sleep in my own bed (and to repack my suitcase and transfer files onto my laptop and fill the nearly empty duffel with all the heavy bookmarks and newsletters again…).  Yes, it was wonderful to sleep in my own bed, make my own breakfast, use my own coffee maker, work on my main desktop computer.
But now it's time to head for the airport again, to fly off to Chicago and then on to Lexington, KY (arriving at 11:30 PM) for tomorrow's signing.  I was at home from 12:30 PM Thursday to 1 PM Friday—not long enough, but enough to recharge my batteries for the second half of the marathon.
I hope to see you in Lexington at 2 PM Saturday at Joseph-Beth Booksellers