HELLHOLE in LA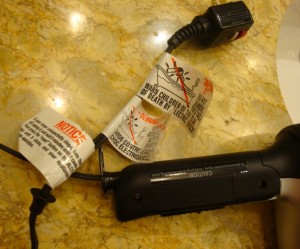 Warning labels on hotel hair dryer. I feel safe now
Heading south from San Francisco on Sunday morning, Brian and I each got up early—Brian to head to the train station for his trip down California's central valley, and me to the airport for a quick flight to Los Angeles so I could spend part of the afternoon with a producer friend on a project we're developing.
I arrived for a double-whammy: torrential downpour and high winds, the worst storm of the year, AND the annual Los Angeles Marathon, which had many miles of main streets blocked off (for miserable-looking runners slogging through the rain).  All of the streets around the area of Wilshire and Santa Monica—where my friend and I were supposed to meet for lunch—were closed.  In most cities, when a street is blocked off, traffic control puts up barricades and orange signs marking the detour.  Not here; they just blocked the streets with no warning and no direction as to how a driver is supposed to go around the closed area.  So, cars turned down alternate streets only to find them blocked as well, then did U-turns to get back a few blocks and try another route.  My phone's GPS was having a nervous breakdown. Finally, after more than 50 minutes of circling the drain, I called my friend and we decided just to meet at my hotel instead (a fine alternative for our lunch and conversation).
Along the way, I figured out that I have now done 21 book-signing tours in six countries (US, Canada, England, Germany, Australia, and New Zealand).  Every one is an adventure.
Brian arrived in late afternoon and worked out in the gym before coming to my room for an hour-long interview with Warren James of the long-standing SF radio program "Hour 25."  Warren arrived at my room with his equipment in tow, set up his recording, and talked with us about Hellhole, The Sisterhood of Dune, and other projects.  After the interview, I went out to dinner at the Yard House (great microbrew selection and heart-stopping but delicious signature mac & cheese) with my typist Mary and long-time friend Cherie.
The next morning, we started our work in LA in earnest.  Our media escort Ken Wilson, who has taken care of us on at least four tours so far, rounded us up at the hotel and delivered us to the first stop, world-famous Buzzy's recording studio where our audiobook narrator, Scott Brick, conducted an hour-long interview for MacMillan Audio, after which Brian and I were asked to sign their celebrity wall (near Lloyd Bridges and Beau Bridges).  Our audio engineer, Andy, has worked there for decades and told many stories of some of the voiceover actors and musicians he had recorded.
Scott Brick, Kevin, and audio engineer Andy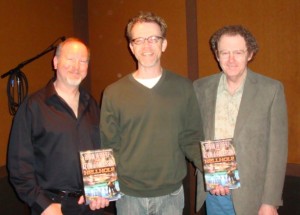 Kevin, Scott,  and Brian
After lunch with Scott Brick, we went around to five LA-area bookstores to do dropby signings, finally ending up in Pasadena for the evening signing and talk. We ate dinner with my friend Dr. Harry Kloor, producer, writer and director of the animated IMAX film Quantum Quest, then arrived a little early at Vroman's Bookstore.  Brian and I went to the back room and signed a cart full of their back stock, then went out to the speaking area, where we saw we had our largest crowd yet on tour (many familiar faces, too); the bookstore kept running to the back room to add chairs for the audience. In addition to Mary and Cherie, Harry Kloor (who took photos of the event), and Scott Brick, I was also glad to see Lisa Morton (treasurer of the Horror Writers of America), Brad C Hodson (who has a story in Blood Lite 3), horror and game writer Rachel Stavis, and many other friends.  Fans Mike and Wendy came all the way from their home near Joshua Tree National Park, delivering a six-pack of orange-wheat beer from their local microbrewery (some of which I enjoyed as soon as we got back to the hotel).  I talked with Rebecca, who had just come home from her own four-day conference in San Jose.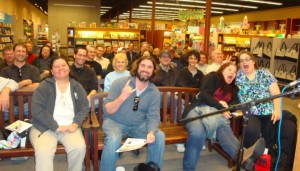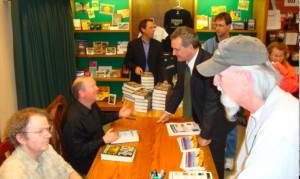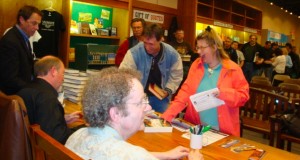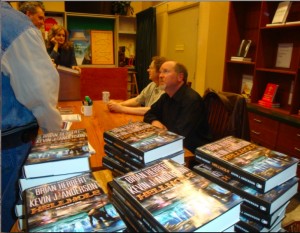 Now, after a good night's sleep, time to write the blog entry, catch up on email, and get ready to go out again for another day full of dropby signings and the event tonight at the Barnes & Noble in Huntington Beach.  And Tor's publicist just called to let me know about an hour-long interview I'll be doing tomorrow morning (5 AM, 6 AM, or 7 AM…my choice.  I picked the latter.)
Then it's off to San Diego.