A Holiday Reading Feast
It's reading season, and here are nine novels all in a cozy bundle:
Grandma gives a sweater she knitted, Dad receives a necktie he doesn't really like, the kids get toys that make a variety of noises, most of them loud, all of them annoying. What do writers give for the holiday season? They give the gift of stories that take the reader away to fantastical times or places, tales that can be blood-curdling or heartwarming, adventures that capture the heart of the season.
As curator for storybundle.com, I put together nine books for your holiday reading cheer, from Mardi Gras to Thanksgiving, to Hanukkah, Winter Solstice, Christmas, New Years—who knows, there may even be a Boxing Day story in there somewhere.  They are all in the Holiday Fantasy Bundle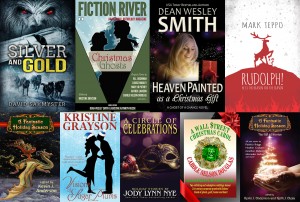 If you want short stories to sample one at a time, like taking candy out of a Christmas stocking, we have plenty of those, four anthologies with remarkable tales by Kevin J. Anderson, Jody Lynn Nye, Jonathan Maberry, Mercedes Lackey, Patricia Briggs, Heather Graham, David Farland, Larry Correia, Carole Nelson Douglas, Mary Jo Putney, Kristine Kathryn Rusch, Nina Kiriki Hoffman, Dean Wesley Smith, M.L. Buchman, and others. Your brain will be as stuffed as the family after a Thanksgiving feast.
If you want to sink your teeth into a longer work, try the epic SILVER AND GOLD by David Sakmyster, set in the gold and silver rushes of California and Nevada, with dogsled races and arctic monsters, vile industrialists and noble heroes. Or for lighter fare, Mark Teppo's RUDOLPH is a first-person account of the behind-the-scenes workings of the North Pole, told by one of Santa's elves. Carole Nelson Douglas reinvents A Christmas Cariol in A Wall $treet Christmas Carol, but don't be scrooged! Kristine Grayson's VISIONS OF SUGAR PLUMS is a charming romantic fantasy about an image specialist with the assignment of handling Santa's "brand" in the face of an anti-obesity campaign. And Dean Wesley Smith presents his popular series character Poker Boy in a dire caper to save Christmas in HEAVEN PAINTED AS A CHRISTMAS GIFT.
That's enough great books to pile up under your electronic Christmas tree. In storybundle, you can get these Holiday Fantasy books for whatever price you name, and a portion of the proceeds goes to charity. For a minimum bid of $5, you'll get the first four books; if you pay $12 or more, you get all nine.  All eBook formats, and available worldwide.