Library Journal Review of HELLHOLE
Library Journal just released their review of Hellhole:
Herbert, Brian & Kevin J. Anderson. Hellhole. Tor.Mar. 2011. c.544p. ISBN 9780765322692. $25.99. SF

In the distant future, the Constellation controls a core of 20 worlds—the Crown Jewels—and claims dominion over more than 50 peripheral planets in "the Deep Zone." When General Adolphus challenges the corrupt rule of the dowager Diadem Michella Duchenet, his incorruptible integrity leads to his defeat and exile to the inhospitable world of Hallhome, known popularly as "Hellhole." However, Adolphus sees his situation not as imprisonment on a deadly world but as an opportunity to plant the seeds of a true revolution. The coauthors of "Legends of Dune" (The Butlerian Jihad; The Machine Crusade; The Battle of Corrin) and other series set in the Dune universe introduce a new trilogy that combines the best of space opera with galactic intrigue and a cast of memorable characters.
VERDICT: Fans of David Weber's "Honor Harrington" series and the Star Wars® novels should enjoy a new entry into this popular category.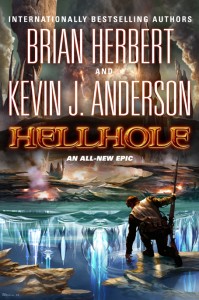 Also, a very nice interview about Hellhole, Terra Incognita, and other subjects was just published in Total SF at
http://totalscifionline.com/interviews/6132-kevin-j-anderson-planet-hellhole-is-a-nasty-place