New HELLHOLE AWAKENING book trailer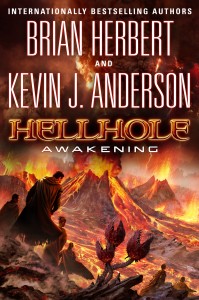 A very snazzy animated book trailer for Hellhole Awakening done by my friend Jonathan Flamm in his home studio.  It's a great snapshot of the SF epic, the second volume in our new trilogy, using the artwork from Stephen Youll and music from my own Roswell Six CDs (written to accompany my Terra Incognita novels, but I love the dramatic, sweeping sound of the instrumental, so it seemed appropriate here).  Take two minutes and have a look.
Because the video is too large to embed, click the direct YouTube link.
Hellhole Awakening is already out in the UK, Australia, and New Zealand. It will be released in the US in a little more than two weeks, Tuesday March 26. If you live in San Diego, Portland, Dallas, Houston, Seattle, Atlanta, Dayton, or Colorado Springs, be sure to stop by at one of our tour appearances.  Full details on my February 26 blog.  And if you haven't read the first novel Hellhole yet, the eBook is available for a special $2.99 price until the end of the month.