Off the Radar
Yes, I have disappeared from my own blog for quite a while, only popping up to do a quick post about a book bundle in the past month or so.  I have been even more buried than usual with writing and publishing deadlines and life in general, and although I do post quick updates regularly on my Facebook page (and go here to join, if you aren't already Following), this has unfortunately not managed to climb to the top of the stack.
But I've been clearing the decks like crazy and now I see a little bit of daylights.
WRITING: for most of the month I have been immersed in the rewrite and then the final edit of my 750-page manuscript of BLOOD OF THE COSMOS, second book in the Saga of Shadows trilogy, following THE DARK BETWEEN THE STARS. This involved adding new chapters and scenes, rewriting a lot of interactions, fine-tuning some plot points, and tying up loose ends. After I finished my rewrites to the whole manuscript—750 pages—I then turned right around back to page 1 to edit all 750 pages all over again. In the middle of that, I went up to Estes Park on the edge of Rock Mountain National Park, holed up in a cabin for five days, and just edited all day long to make real headway. Right now, Rebecca is up to page 2o0 on her copy-edit of the manuscript.  Here is Stephen Youll's amazing cover painting for the book.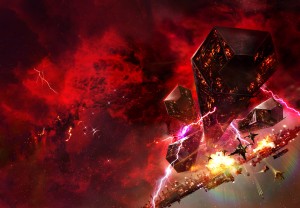 I also flew to Georgia to be a guest for the weekend at the Coca-Cola Science Center's SF weekend, was a guest via Skype at the European Rushcon, drove up and did a book signing in Cheyenne, WY,  flew to Seattle to spend five days with Brian Herbert brainstorming our detailed chapter-by-chapter outline for NAVIGATORS OF DUNE, which is just about ready to be written—as soon as I go over the outline one more time. I met twice with my long-time coauthor Doug Beason (ILL WIND, ASSEMBLERS OF INFINITY) to develop ideas for new high-tech thrillers we want to work on.  And with Neil Peart, I'm about 2/3 of the way finished writing CLOCKWORK LIVES, a sequel of sorts to CLOCKWORK ANGELS. And I did a new X-Files novelette, "Statues," for an X-Files anthology edited by Jonathan Maberry, and the introduction for a new volume of the popular web comic "Looking for Group."
PUBLISHING: That was just in my incarnation as a writer. As the Publisher of WordFire Press, we've got a lot of books working through production. Since October, we have released (or are about to release) numerous new books, including the last three political thrillers in Allen Drury's landmark "Advise and Consent" series, a new Mike Resnick collection AWAY GAMES, a holiday anthology A FANTASTIC HOLIDAY SEASON: THE GIFT OF STORIES (which just got a starred review in Publisher's Weekly!), several Jody Lynn Nye novels (MYTHOLOGY 101, STRONG ARM TACTICS, and a holiday collection A CIRCLE OF CELEBRATIONS), a never-before published Frank Herbert novel A THORN IN THE BUSH, a nice edition of CLOCKWORK ANGELS: THE COMIC SCRIPTS (for Rush fans and comics writers), a new military SF anthology FIVE BY FIVE 3: TARGET ZONE, a steampunk anthology THE BEST OF PENNY DREAD TALES, an urban fantasy novel by Peter J. Wacks HAIR OF THE WOLF, an upcoming Dan Shamble Zombie PI collection WORKING STIFF, a hard SF anthology edited by Jody Lynn Nye LAUNCH PAD, and two reissues of my SF novels with Doug Beason LIFELINE and THE TRINITY PARADOX.
For WordFire Press, I also serve as the Art Director, so I work with our designers and authors to get every one of those covers developed and designed. I can only handle all this publishing work because I have a great, competent, and dedicated team working on it and saving my bacon again and again—Peter J. Wacks, Vivian Trask, Quincy J. Allen, Keith J. Olexa, James Sams, Tara Henderson, Mia Kleve, David Boop, and of course my co-publisher (and wife) Rebecca Moesta.
LIFE: In the intersection of publishing and Life, I am also nearly finished writing, designing, and producing our annual holiday card (no store-bought card will do!) and my brother-in-law T. Duren Jones and I are finishing our annual gorgeous "Tales from the Trails" calendar, filled with anecdotes of our hiking escapades as well as our own photography. We had visiting family members, three birthdays (Jonathan, Rebecca, and Rebecca's father), my parents had an anniversary. One of my closest friends had surgery and was in the hospital for two days, and another close friend, Alan Lickiss, passed away after a long illness.
I will write more about all these things as I get a chance, but as you can tell from the paragraphs above, I just haven't had the time. I'll catch up.  I always do.