San Diego Comic Con 2013 wrapup
We've been going to San Diego Comic Con for close to twenty years now, and it's always a whirlwind of sights and sounds, friends, celebrities, crowds, freebies, costumes, crowds, and more crowds. In short, a madhouse, but in a good way.  Since the San Diego Convention Center is filled with pros and fans, I called it a "sea of ProFanity."  And did I mention the crowds?
I have a couple of graphic novels coming out, so it was good to do a little promotion, to sign books, meet fans, but most of the time I was on panels or in meetings. Rebecca and I are both in the middle of big deadlines (so what else is new, you ask? These are even crazier than usual for us.)  I am doing my final read on MENTATS OF DUNE while Rebecca is reading the manuscript of THE DRAGON BUSINESS—noise cancelling headphones on the plane leads to good concentration time for a couple of hours!
We landed at noon on Thursday, got to our hotel, the Sheraton Symphony Hall (more than a mile from the convention center, but it was the closest we could get even though we logged on and hammered the signup pages within one minute of when the rooms opened!)  We found a wonderful middle-eastern restaurant only a block away and had a nice meal before we plunged into the crowds to get our badges and hit the show floor.  My first panel was at 3:30—the Delphic Oracle, hosted by Todd McCaffrey, a fun improv-style game where the whole panel answered questions from the audience, one word at a time. I was one of the oracular voices, along with Craig Miller, Dani Kollin, Mallory Reeves, and Jon Del Arroz. I can't promise all the answers made sense.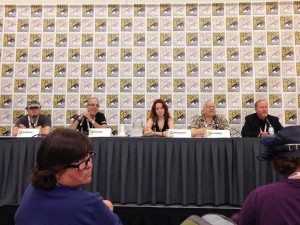 That night we met up with Adrienne Lombardo, my former audio rights agent and now my editor at Brilliance Audio. Adrienne is also a not-so-secret fangirl who participates in her own Jedi troupe. On the way down to the Kansas City Barbecue (the wonderful dive across from the convention center, best known as the place where part of Top Gun was filmed), we bumped into Christopher Paolini on the sidewalk (among 160,000 other people!)  Knowing we had a long weekend ahead,  Reb and I went back to the hotel early and even did a little editing before crashing.
Next morning we had an early lunch with my editor from BOOM! studios to go over exciting details for a really cool, really big new graphic novel project (actually, that should be in caps, Really Cool, Really Big). I'll announce soon. Then a late lunch with Claude Sandoz from ASI (he's been with us to Ecuador, Frankfurt, Dubai, and Qatar…and San Diego.), after bumping into fellow writers Kevin Dilmore and Andy Briggs.  At 6 PM we went to the Scribe Awards Ceremony, where CLOCKWORK ANGELS won in the category of Best Adapted Novel. This is my second Scribe (first was for ENEMIES & ALLIES), as well as the Lifetime Achievement Award last year.  Scribes are given by the International Association of Media Tie-In Writers. Max Allan Collins presented me with the award.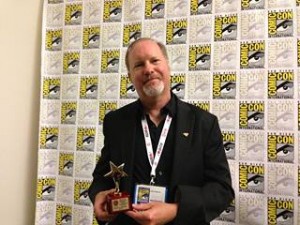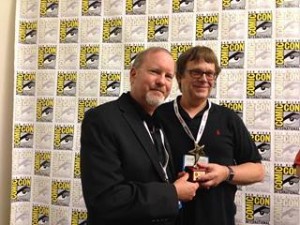 with Max Allan Collins and the Scribe Award for CLOCKWORK ANGELS
After the Scribe Awards, Rebecca and I had to hurry to be on another panel, "Publishing SF/F in the Digital Age," hosted by Tim Travaglini from Open Road Media, with Cory Doctorow, Andy Briggs, Sherri L. Smith, and Nick Cole—the room was packed, 500 people. Afterward, we had dinner for Harry Kloor's 50th birthday party, with Harry and Rayna, Len McLeod, Rantz Hosely, Kevin Sorbo, and a long table of other friends.
Saturday morning we got up early for our annual breakfast with John Goodwin from Galaxy Press and Writers of the Future, after which I was on a panel "Urban Fantasy: Myth and Magic in the City" with Jim Butcher, Richard Kadrey, Max Gladstone, Kevin Hearne, and Liesel Schwartz, moderated by Diana Gill. Another packed room, 500 or so people, after which we did a signing in the Sails Pavilion, lunch to discuss WordFire Press and ePublishing with Tim Travaglini from Open Road Media. While Rebecca went back to the room to rest, I walked the floor a little, met up with friend R.H. Stavis, whose novel DANIEL'S VEIL we'll be re-publishing at WordFire. Then I bumped into Steven L. Sears (co-exec producer of XENA: WARRIOR PRINCESS…who also happens to be my coauthor on STALAG-X) and our long-time friend Pat Tallman. Steve took this great shot of the two of us: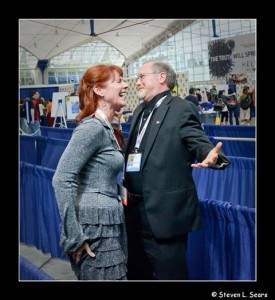 A great seafood dinner with Christopher Paolini, Robin Hobb, Peter Orullian, Eldon Thompson, and other great friends (then back to the room for a little more editing).
Sunday started with a meeting with Steve Sears at Gestalt Comics with our publisher Wolfgang Bylsma and Art Director Skye Ogden to discuss the main launch of our graphic novel (we're just about to start writing the last script, of 6). Rebecca had a signing at Mysterious Galaxy Books, and then we went off to lunch with Duane Wilkins from University Books and Brandon Sanderson. Another afternoon meeting with Gestalt, an interview for a podcast, a quick meet-up with Denise and Dave Dorman, and then back to the hotel for a quick shower before going out to dinner with a bunch of buddies we met in Australia at Supanova—Neil and Sharon Kaplan, Tom Taylor, and the gang from Gestalt. We went to our traditional Karl Strauss Brewery.
We slept in Monday morning, ate lunch again at that great middle-eastern restaurant, then went off to the airport (Christopher Paolini was on the same flight)—and spent more hours with noise-cancelling headphones, reading and editing manuscripts. Now, back home and back to the routine.  My next trip will be a long wilderness trip and a 16 mile hike on the Colorado Trail near Silverton—quite a break from the crowds!