Special Signed/Numbered Edition of Dan Shamble WORKING STIFF
Attention, Dan Shamble fans! A new expanded, special edition of the Zombie P.I. Collection WORKING STIFF is just out from Gauntlet Press, hardcover, signed, numbered, even some high-end editions in slipcases or special trays. Perfect for the zombie collector!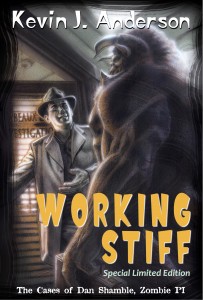 The Gauntlet Press special edition of WORKING STIFF has a new introduction by New York Times bestselling author Jonathan Maberry—and signed by him, too!—an afterword by me, AND a very cool bonus, the complete never-before-published 42-page comic script of "Unnaturally Normal," written with Richard Dean Starr—the comic team-up between Dan Shamble, Zombie P.I., and Kolchak the Night Stalker!  The comics will be coming out next spring from Moonstone comics, but right now this is the only place you can get it.
All copies are signed by me and Jonathan Maberry, numbered or lettered, in various states. Available now. Order direct from Gauntlet Press.