Starred Booklist review for HELLHOLE
Our first review on HELLHOLE!  From Booklist:
(starred review)  Hellhole is a militaristic sf story of galactic proportions. The underdog, General Tiber Adolphus, had taken on the corrupted Constellation and lost as a direct result of choosing a moral high ground. The ruler of the Constellation, Diadem Michella Duchenet, does not have him executed but, rather, exiled permanently to a planet in the Deep Zone.
The Diadem is the powerful ruler of a system not unlike that of Louis XVI of France, a feudal system of nobility that tramples the common people for the benefit of the few scheming nobles at the top—a system teetering at the end of its useful life. In the time honored footsteps of story arcs like Star Wars and Dune, Adolphus continues to plan a rebellion from his remote world of exile, hoping to eventually achieve the Deep Zone planets' independence from the Constellation. A brilliant strategist, lover of Old Earth history, and cast-off of a now-defunct noble line, Adolphus is a Robin Hood for the galaxy to unite behind and support.
The characters are easy for the reader to believe in, brought to life through not only their own emotions but also the responses and thoughts of the individuals around them.
High-Demand Back Story: Herbert is, of course, the Dune guy, and considering it is regarded as one of the greatest sf novels of all time, cultists will flock to his new one.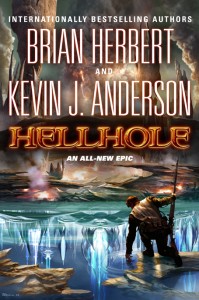 HELLHOLE
Brian Herbert and Kevin J. Anderson
A Tor Hardcover
$25.99 │ 512 pages
ISBN13: 978-0-7653-2269-2
On Sale Date March 15, 2011
I will spend the first week in February in the UK for talks and book-signings, tied to the British release of Hellhole.  Brian and I will be doing a West Coast US tour to promote Hellhole in mid-March.  I will also be signing in several other US cities afterward.  Details and complete schedule to come.