Teaser Tuesday: MILLION DOLLAR PROFESSIONALISM FOR THE WRITER
Over the past twenty years, Rebecca Moesta and I have given our workshop  "Things I Wish Some Pro Had Told Me When I Was Starting out" to thousands of writing students. In preparation for Nanowrimo next month, and also for the upcoming Superstars Writing Seminar in February, we put all that knowledge down on paper, including a lot of new sections that we never have time to cover in person.  This book won't teach you how to write—it will teach you how to be a professional writer.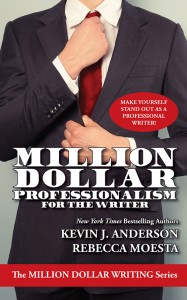 The print version will be released next week. Available now in all eBook formats for $6.99
Kindle
Kobo
Nook
All other formats
If you want to be treated as a professional writer, you need to act like a professional. Take yourself and your career seriously. Behave in a way that you would expect a professional to behave.
When you see a doctor, lawyer, banker, or business executive, you expect certain standards—that they are mature, reliable people you'd want to do business with.
You've probably seen writers portrayed on TV or film as eccentric, ditzy, pompous, or curmudgeonly, as if that's the norm for a writer. They shrug. "Eh, creative people. What can you do?"
You can be professional.
When Kevin sold his first novel in 1987, he received an author questionnaire from the publisher's publicity department, asking about his interests, his areas of expertise, and his background in doing interviews and public appearances. Before the pub-lisher turned him loose on book signings or set up media interviews, Kevin naïvely assumed that some-one would train him. Since the publisher had a vested interest in their author making a good public impression, shouldn't they go over a list of guidelines or standards of behavior to make sure he was ready for prime time? After all, as an author representing their publishing company, he had their reputation as well as his own on the line. Surely they gave their authors some kind of code of conduct to keep them from shooting themselves in the foot, putting their foot in their mouths, or any other foot metaphor you prefer. When he asked about it, they told Kevin, "You should just know what to do."
Unfortunately, many authors have no idea what to do.
After a successful career spanning more than a quarter of a century, with over 125 books published and 50+ national or international bestsellers, Kevin has spent a lot of time learning how to be profess-sional.
He and his wife Rebecca—also an award-winning and New York Times bestselling author of dozens of books—have given lectures and workshops for thousands and thousands of writers.
They have presented their seminar "Things I Wish Some Pro Had Told Me When I Was Starting Out" for two decades, often to standing-room-only crowds.
Finally, they decided it was time to put that information in writing. The need for business knowledge and professional behavior is greater than ever. With more authors choosing the indie publishing route, they are forced to be front and center—producing and promoting their books, meeting fans, talking to bookstores. No longer can socially inept authors safely tuck themselves away in a cabin so they can write, while someone else does all the legwork.
With the explosion of social media, blogs, and discussion boards, where writers have direct interact-tions with readers—not to mention the potential for unfortunate flame-wars—it is imperative that writers learn to be professional, to stand out above the crowd of amateurs and be taken seriously.
The authors hope this book helps. They'll be watching.