Things that Go Bump in the Night—Urban Fantasy Bundle
It's that time of year to feast on great spooky stories—and Halloween means FUN as well as SCARY.  So, a batch of Urban Fantasy novels is just the ticket.
I'm curating a new Urban Fantasy bundle for storybundle.com, a remarkable collection of ten terrific novels by bestselling, legendary authors and rising stars. As always, at storybundle, you name your own price—whatever you feel the books are worth, and a portion of the proceeds goes to charity (in this case, the Challenger Centers for Space Science Education, Mighty Writers, and Girls Write Now).
The Urban Fantasy bundle contains my original Dan Shamble, Zombie P.I. collection WORKING STIFF, seven cases featuring everybody's favorite dead detective—a special sneak preview, because the book itself will not be released until January!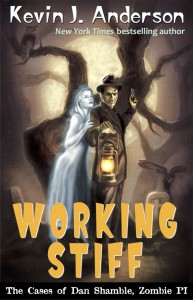 And the bundle includes a new Harry Dresden book by Jim Butcher—WORKING FOR BIGFOOT, all three of Harry Dresden's Bigfoot cases, never before collected. This book is not available anywhere else.  AND, Vicki Pettersson presents an original, never-released work THE REORDERING, which is not available elsewhere.  AND AND Carole Nelson Douglas put together a brand new collection of her popular Delilah Street Urban Fantasy stories, just for this bundle.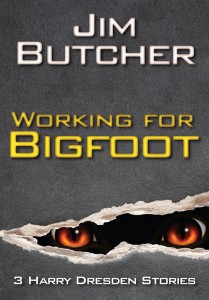 Other New York Times bestselling authors include David Farland with his novel NIGHTINGALE, Michael A. Stackpole has TRICKNOMANCY, and P.N. Elrod delivers THE DEVIL YOU KNOW.  Want more? Elizabeth Bear offers WHISKEY AND WATER, a novel of the Promethean Age, Rhiannon Paille has VILLAINS from her Ferryman and the Flame series, and Peter J. Wacks delivers HAIR OF THE WOLF.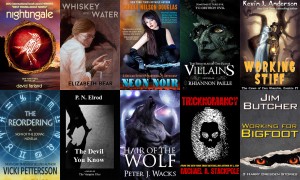 For Storybundle, you decide what price you want to pay.  For $5 (or more, if you feel generous), you'll get the basic bundle of five books in any eBook format—WORLDWIDE.  If you pay $14 (or more, if you feel generous), you'll get the five bonus books as well.
The Urban Fantasy bundle runs for three weeks only. This is a great deal, and a great way to pick up a batch of books for those chilly autumn nights—and you'll be able to get the Dan Shamble WORKING STIFF, Vicki Pettersson's THE REORDERING, and the Harry Dresden WORKING FOR BIGFOOT books, which are not available anywhere else.