Tick Tock! CLOCKWORK LIVES Audiobook—and WORKING STIFF
The CLOCKWORK LIVES novel is a beautiful example of the bookmaking craft from ECW Press, a work of art with red leatherette stamped cover, endpapers, color printing, line illustrations. The unabridged audiobook is just out—and I think that's pretty special, too.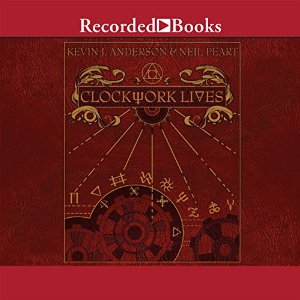 http://kjablog.com/wp-content/uploads/2015/10/51OQXygZnEL._AA300_.jpg 300w" sizes="(max-width: 300px) 100vw, 300px" />
CLOCKWORK LIVES is like a steampunk Canterbury Tales, the journey of Marinda Peake across the land of Albion, with airships, carnivals, the Watchmaker, the Anarchist, pirates, sea monsters, and more. Along the way, she collects the tales of others who have led interesting lives.
The audiobook has as many unique narrators as there are stories. One reader does the main narrative of Marinda Peake, while individual readers take over the duties for the different tales. I even did one of the stories myself, hitting the studio to record The Wrecker's Tale toward the end of the book. Give it a listen!  Available on audible.com or direct from Amazon.
For CLOCKWORK ANGELS: The Novel, Neil Peart took over the narration duties himself, spending days in the studio recording the novel. This time, CLOCKWORK LIVES was being recorded just as Neil and Rush were finishing their amazing R40 Tour, and though we tried to juggle the scheduling, it just didn't work out.
If you're in the mood to listen to something a little funnier, something with zombie detectives and kidnapped hellhounds and vampire trapeze artists, try another new audio we just released, WORKING STIFF: The Cases of Dan Shamble, Zombie P.I.  All seven of the hilarious individual cases of the best zombie detective in the Unnatural Quarter. Includes Stakeout at the Vampire Circus, Road Kill, Naughty & Nice, Locked Room, The Writing on the Wall, Role Model, and Beware of Dog.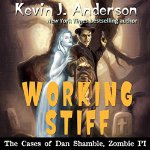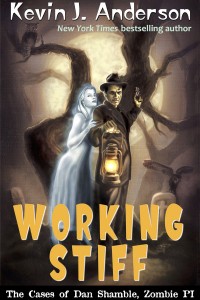 http://kjablog.com/wp-content/uploads/2015/10/Working-Stiff-Cover-Final.jpg 600w" sizes="(max-width: 200px) 100vw, 200px" />
Available on audible.com  or direct from Amazon.