Tour Cities Announced for HELLHOLE AWAKENING
Tor Books has arranged a national tour for HELLHOLE AWAKENING, which launches on Tuesday, March 26.  Please come out and see me and Brian Herbert—get your books signed, ask questions, and we might even have some cool giveaways.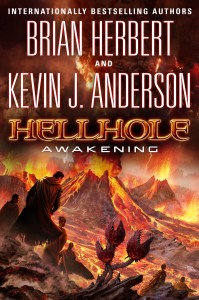 Tuesday, March 26, 7 PM
San Diego, Mysterious Galaxy Books (Kevin)
Portland, Powell's Books, Cedar Hills Crossing (Brian)
Wednesday, March 27, 7 PM  (my birthday!)
Dallas, Barnes & Noble 7700 West Northwest Hwy (Kevin)
Thursday, March 28, 7 PM
Houston, Barnes & Noble, River Oaks Shopping Center (Kevin)
Friday, March 29, 7 PM
Seattle, University Books (Brian & Kevin)
I will be at NorWescon in Seattle as a guest Saturday and Sunday
Monday, April 1, 7 PM
Atlanta, Eagle Eye Books (Kevin)
Tuesday, April 2, 7 PM
Dayton OH, Books & Co at the Greene (Kevin)
April 5–7
Richmond, VA—I will be Guest of Honor at RavenCon
I will also be happy to sign CLOCKWORK ANGELS, the Dan Shamble books, CAPTAIN NEMO, or any of my Dune, Star Wars, Seven Suns, or other novels.  We hope to see you there!