UK Tour for HELLHOLE next week
Heading off to England next week for the UK launch of my new novel with Brian Herbert, Hellhole.  Hellhole is an original science fiction epic, our first joint foray into a universe of our own creation.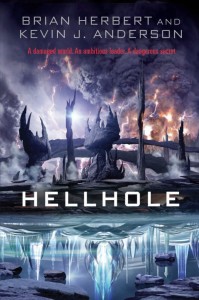 In addition to many interviews and meetings with industry professionals, I will be giving a talk and booksigning at the Millenium Library at the Forum in Norwich on Wednesday Feb 2 at 6:30 PM.  Fans who can't make the event can call the Norwich branch of Waterstones on 01603 767292 to reserve a personalised copy.  I will also be one of the author guests at the SFX Weekender 2011 on Friday Feb 4, where I'll be autographing for Forbidden Planet, participating in panels, and being interviewed.
Hellhole is released next week by Simon & Schuster in the UK.  Release date for US publication is March 15.  I'll also be doing a 13-city US tour to promote the book; details to follow.