WorldCon/Sasquan Report
As Rebecca and I gather our books, materials, and clean clothes for DragonCon this weekend, I realize I never posted pics and a summary of the recent Worldcon.
Here, just the highlights. Our WordFire team had driven up ahead of time and set up our great booth in the Dealer's Room, and they did a big book release part for our new edition of THE OUTPOST by Mike Resnick. Rebecca and I didn't arrive until the next day, to the sharp smell of smoke in the air from the forest fires.
Mike Resnick at the WordFire Outpost launch party.
We checked in, got our badges and membership packets, checked out the WordFire table, and then had dinner with Liz Vann-Clark and her husband Turtle, who had been my hosts at RadCon this past spring. We went with David Boop out to dinner at Rocky Roccoco's Pizza—a famous fixture from my college days at the University of Wisconsin, Madison. David is from Wisconsin as well, and we relished the nostalgia (the pizza was pretty good, too.)  After dinner, Liz and Turtle drove us out to the Spokane County Library, where I was delivering a public talk for their evening program.
Next morning, the con started in earnest. I had a panel on creating multimedia properties, a reading (The Sea Captain's Tale from Clockwork Lives), a "literary beer" in the afternoon, then a panel on the future of the small press. I recorded an entertaining episode of the Writing Excuses podcast with Brandon Sanderson, Dan Wells, and Howard Tayler. The rest of the time we were at our table, meeting fans and signing books.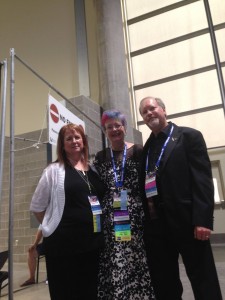 With WordFire author Cat Rambo (who was signing her book The Beasts of Tabat)
Mike Resnick signs even MORE copies of The Outpost.
That night we had a lovely steak dinner with a large crew of authors from 47North, including Greg and Astrid Bear and George RR Martin. The smoke was getting so thick we could hardly breathe, and Rebecca and I had to wear filter masks to walk the few blocks to the restaurant.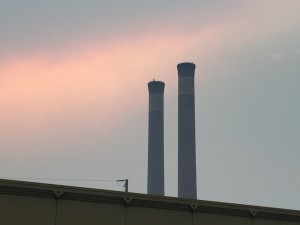 Early the next morning, I joined a group of other authors and editors as well as a lot of fans who had signed up for a morning "stroll with the stars" around the river and the falls. I loved it; I so rarely get to go out on a hike at a con, and it was great to have some exercise, especially since the winds had shifted and the smoke was gone.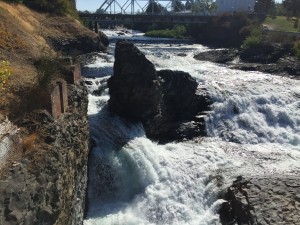 When the con started, I gave my talk, "Building my first lightsaber" to a room full of people, then later in the day I attended a large reception given by 47North to introduce their authors to readers. I even met a woman cosplaying as one of the Roamers from my Seven Suns series.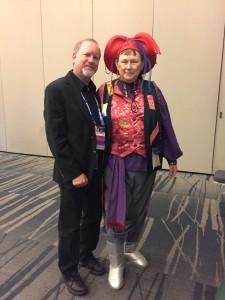 Then it was time to get all dressed up for the Hugo ceremonies; I had brought my tux, Rebecca had her fancy gown. My novel The Dark Between the Stars was a finalist for Best Novel, and I was up against some excellent books.
Hugo ceremonies, with Bryan Thomas Schmidt (who works as an editor for WordFire), finalist for Best Editor Short Form
Alas, this year's Hugos were embroiled in a nasty controversy in which some parts of fandom (including many of my friends) displayed extremely poor behavior to the detriment of all, with the result that worthy finalists in several categories were effectively thrown under the bus in favor of "No Award." It added tension and a sour note to what would otherwise have been a fine ceremony.
The Dark Between the Stars didn't win in its category, but at least I lost to the talented Ken Liu, who was (at least briefly) one of my writing students at Writers of the Future, and I couldn't be happier for him. Afterward, at the extravagant Hugo Losers party thrown by George RR Martin, I expressed my congratulations to Ken by writing on the back of his conehead mask, "My head is shaped like a Hugo."
The final day, I had a panel on Young Adult books, the another one on writing the long series. and when the con wrapped up, we got everything packed up, took all the excellent WordFire authors and helpers to a pizza dinner (a second chance at Rocky Roccocos…couldn't resist). And then a relaxing night and the flight home—until the next con, DragonCon.
Hope to see you there this weekend.