16 Miles on the Colorado Trail, Lake City to Silverton
I'm sitting in the quaint "Handlebars Saloon" in Silverton, Colorado, with a pint of "Handlebar Amber" in front of me, tired muscles, sore feet, and waiting for my green chile cheeseburger.  It's a great way to cap a great day.
I just completed the 16-mile Segment 23 of the Colorado Trail, one of the most remote segments of this spectacular trail, and I hiked from the quaint historic town of Lake City (where I stayed last night) to the other end in the equally quaint town of Silverton. I hike each segment with my brother-in-law Tim, and this time we had complex logistics to do, because a rough mountain range stands between the two towns.  The drive from Lake City to Silverton takes about five hours, so we decided to stay in separate hotels on opposite ends.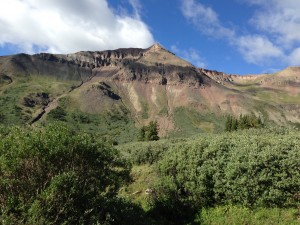 I left Sunday morning to drive from Colorado Springs to Lake City, about a six-hour drive. Tim left to head to Silverton (which is a couple of hours farther away).  I had my writing notes and my digital recorder, and I was mentally geared up to start writing HELLHOLE INFERNO. Brian Herbert and I had iterated our outline about ten times until we were both happy with our chapters. I was anxious to get started—and there's nothing like a long drive for concentration time.  I wrote my first two chapters on the drive to Lake City.
I had reserved a room in the "overquaint" Matterhorn Motel, torn from the pages of a 1950s magazine.  (This is the type of motel I like to call "Neil Peart Approved" because he loves places like this.)  It was a nice room, though missing a refrigerator to keep my cans of Pikes Peak Elephant Rock IPA cold…fortunately, a good hoppy India Pale Ale doesn't need to be all that cold.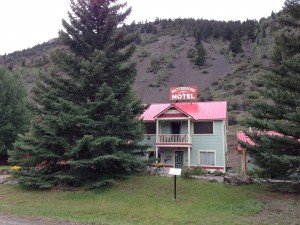 Tim got to his room in Silverton and called to tell me everything was set for the next morning.  I ate dinner at Southern Vittles (friend chicken and fried okra, naturally), then settled into the room to finish my last read and polish of MENTATS OF DUNE (not many pages left).
Next morning, the phone alarm buzzed at 6 AM. I took a quick shower, used my travel Keurig to brew a cup of coffee, and pulled on my hiking clothes. I filled the camelback with water, tossed everything into the car. Tim texted me when he headed out—and we were off to our respective trailheads.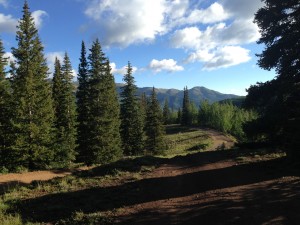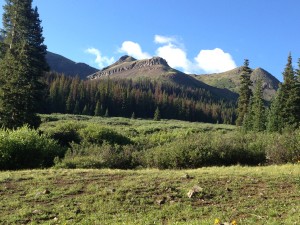 I had my big green Ford Expedition 4X4, lovingly named Hulk, while Tim drove a smaller Ford Escape SUV ("Clark," as in Kent). I needed all the four-wheel-drive muscles of Hulk to get up the road on my end of the trail, a ferociously difficult 4WD mess that the guidebook charmingly calls "not a road for the squeamish"—and it wasn't. I white-knuckled up steep grades, snot-slippery mud, big rocks, deep gullies…it took me 35 minutes to go 5 miles.  But how else do you get to the trailhead?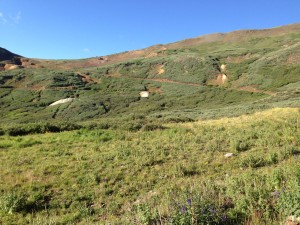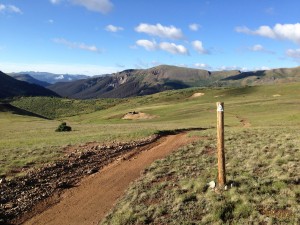 I parked Hulk up in the wide open 12,366-ft Carson Summit, where I would start my hike—and headed off into 16 miles of wilderness.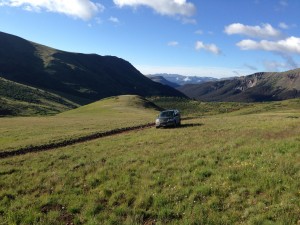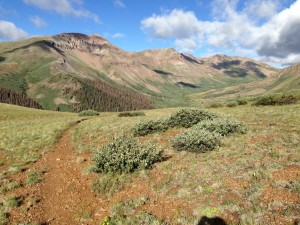 When J. Robert Oppenheimer was tasked with putting together the Manhattan Project, bringing the greatest physicists in the free world together to do the impossible—to create the first atomic bomb before Hitler's team designed one—Oppenheimer suggested that all the physicists should be taken a spectacular mesa in northern New Mexico, Los Alamos.  He thought the grand vistas, the wide-open landscape, and the sheer natural beauty would inspire them, open their imagination, and let them think outside the box.
I understand exactly what he was thinking.
Such expansive vistas, the limitless wilderness, and the breathtaking beauty around every corner—it's all good for the mind, for the imagination, and for the soul.  I hadn't managed a big hike yet this year, and as soon as I set off from the car, heading into the jaw-dropping Lost Trail Creek drainage, I could feel the energy and the beauty. I hauled out my digital recorder, my notes, and started dictating another chapter in HELLHOLE INFERNO as I hiked along.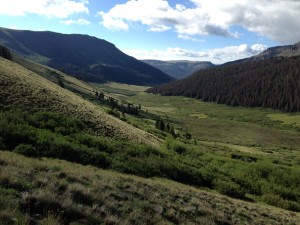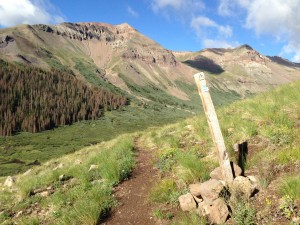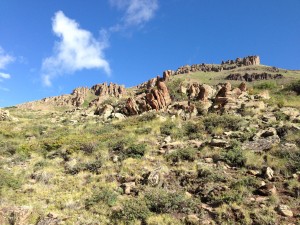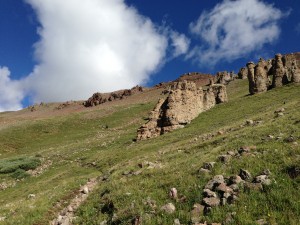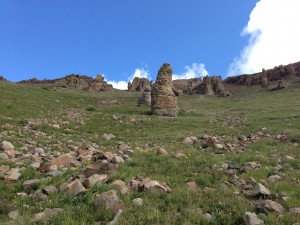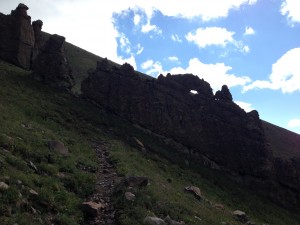 The day's hike was a long succession of traveling down a drainage, up to another saddle, down into the next drainage. Repeat.  I saw almost no people all day, a couple of through-hikers, some campers at high mountain lakes, and a lot of scenery.  I ran out of adjectives sometime in the first hour. At no point in this entire segment did I drop below 12,000 feet elevation—so I was much too high up for trees, just lots of streams and wildflowers, and incredible vistas.  I'll let the pictures speak for themselves.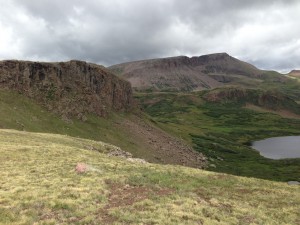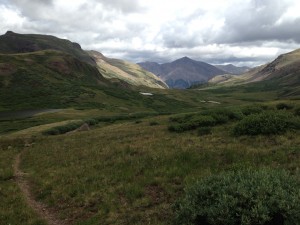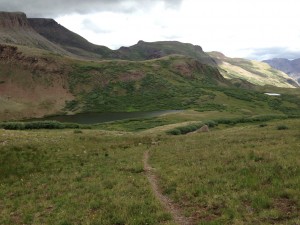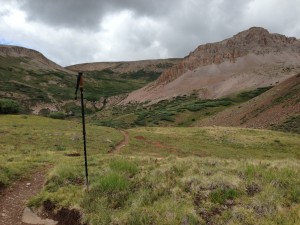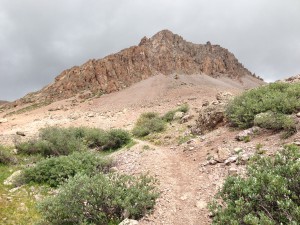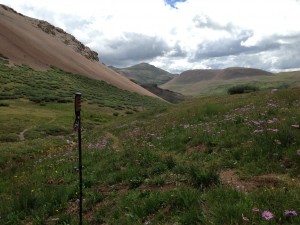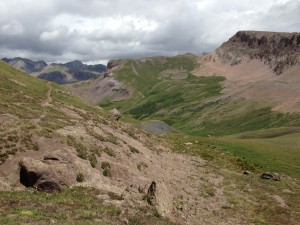 At about the halfway point, I met Tim coming the opposite direction, and we pulled up a rock to have lunch as clouds built in the sky.  Off and on all day I'd been sprinkled upon, but nothing serious (though I did get tired of pulling the windbreaker on and off).  Tim raved about the scenery in his half of the segment so far, I raved about the scenery in mine.  The forecast called for a 40% chance of rain, which was no surprise. We were prepared.  We exchanged car keys, as well as hotel room keys, and we were all set for reaching the other end.  Since we each had another eight miles to go, we set off in opposite directions, Tim heading toward Lake City, me heading toward Silverton.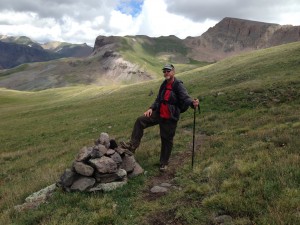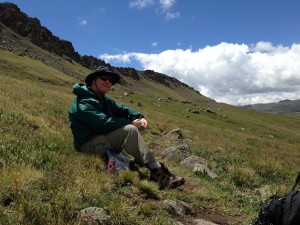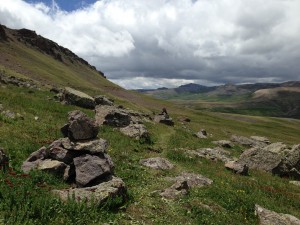 I finished one chapter in HELLHOLE INFERNO, then another, and needed a break. Normally I just hike with silence around me, but this time I pulled out my iPod and started playing the last part of an audiobook, Robin Hobb's BLOOD OF DRAGONS. The grand fantasy battle seemed an appropriate backdrop to the vast scenery around me.  I finished the book, then skimmed the notes for my next chapter, and started to write.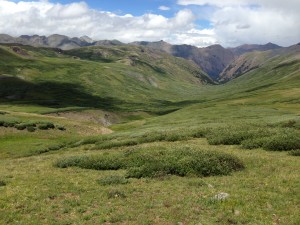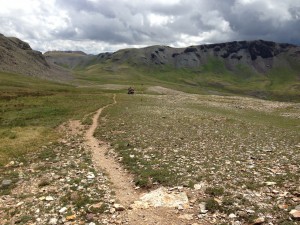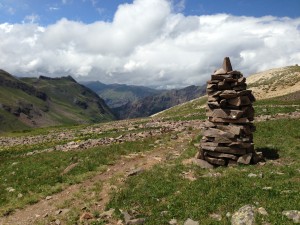 But the early afternoon clouds were closing in, and the guidebook said I was ascending toward the top of a ridge, a high point in today's trail. I looked ahead toward the ridge and saw nasty thunderclouds gathering, then a dramatic lightning strike right about where the trail would take me.  Not a heartening sight. But as I watched, I saw that the clouds were moving away, and by the time I made it to the top of the ridge, the storm was harassing an entirely different valley.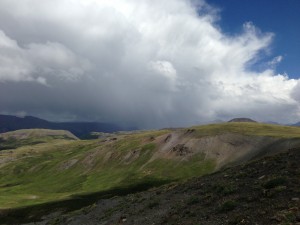 Then I turned around to see a much more ominous storm heading my way from behind.  It looked ugly.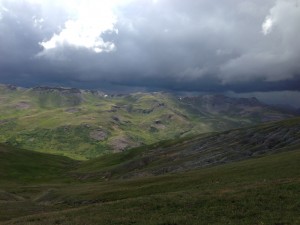 I decided not to do any more writing just then, so I put the recorder and notes in my pocket, and hauled out my warmest clothes, getting prepared. I was out in the wide open high country, with no shelter, just a few rocks here and there.  I was going to get drenched, and it's much better to put the extra layers on when you're already warm and dry.
I set off, trying to pick up speed—but by this point I had already hiked eleven rugged miles and my legs were exhausted (did I mention that I had not done any other big hikes yet this season?).  "Picking up speed" was not a viable option. The wind began to howl, rain started sprinkling, then spattering.  Then hail.  It had all the "sturm and drang" of a German opera.  At least there was no thunder and lightning.
The hailstorm was probably the worst I'd ever been in.  With high winds driving the nasty ice pellets right at me like buckshot, I felt stinging impacts on my legs, my neck, my cheeks.  The wind shoved me sideways, and the hail increased.  I couldn't see any shelter around, and I was being blasted.  That's when I started thinking WWBGD?  What would Bear Grylls do?
I finally found a low rock outcropping about three feet off the ground, and I hurried around to the back side, in the lee of the wind for minimal protection.  I had to lie on my back, flat on the ground with my backpack on my chest and my spare windbreaker pulled over my head like a tent. I just lay there for about fifteen minutes listening to the firecracker popcorn sound of hail pummeling my windbreaker shelter. It would have been an appropriate place to think of a few more details about Hellhole.
The rain continued, but the merciless pounding of hail diminished. I wasn't getting any dryer just lying there, so I got back to my feet, bundled up as much as possible, and trudged on for another mile before the storm finally let up—and opened the sky to astonishing blue and rays of golden sunshine.
It seemed like an apology from the storm. By now I was only two miles from where Tim had parked Clark.  After a storm in the mountains, and the warm sun comes out, clouds of mist rise from the ground and cling to the cliffs. Melting hail crystals sparkle, the sunshine is breathtaking. The colors have an incomparable intensity, the greens are so intense the eyes hurt, the colors in the cliffs are denser, brighter, and as I walked through even more astonishing landscape, I decided this was one of the most beautiful parts of the Colorado Trail.  (But I was utterly drenched, my hiking boots squishing as I walked, and I felt miserable so … weather-apology not entirely accepted.)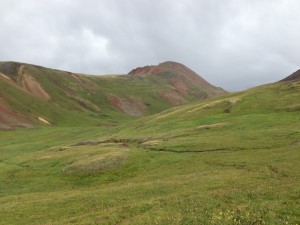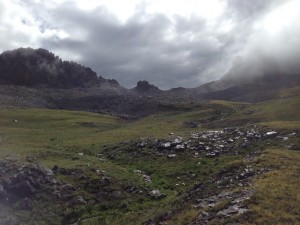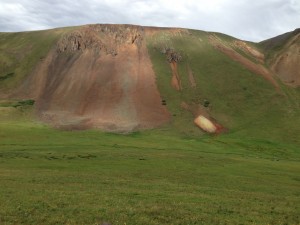 I met up with a woman coming the opposite direction who was biking the trail—which in this segment with its narrow, winding, and rocky track, meant she was pushing her bike most of the way.  As we came within earshot, I said "Did you get hit by the storm?"  She saw it coming and had bundled up with very warm piece of clothing she had.  By now it was 4:30 in the afternoon and she didn't know how much farther she could go before having to set up camp. She had seen Clark parked on the Stony Pass Road trailhead, and gave me the great news that I was less than an hour away.  I squished on, glad for my high-tech hiking pants that dried out quickly.  But my chapter notes in the pocket were a sodden unreadable mess, so no more writing that day.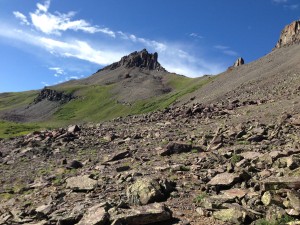 When I finally came around a bend in the trail to see the blue SUV parked there, I felt great joy.  I shucked off the backpack, opened the car, stripped out of my drenched clothes and changed into the dry ones I had cleverly stashed in the back, then drove off down the Stony Pass Road, another steep and rugged 4WD road that led down into Silverton.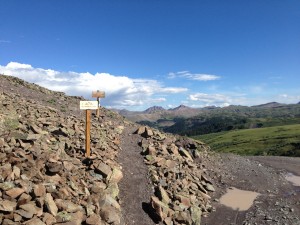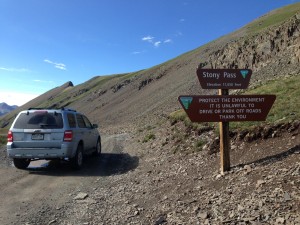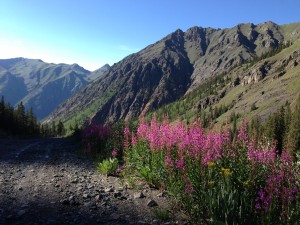 Tim had given me his room key, so I could go right in, hit the warm shower, then put on clean clothes. Tim texted me to let me know he had also made it to his hotel in Lake City (and to agree that that awful road coming back down was "not a road for the squeamish.")
Starving, I walked down Main Street to look for a place for dinner. Most of the Silverton restaurants are incomprehensibly closed for "Monday."  I found that peculiar, since in my experience people like to eat every single day of the week, even when they're on vacation.  On a side street I did find the Handlebar Saloon, and now I've had a nice filling meal and good beer as I write this on my laptop.  It's time to go back to the hotel, stretch out, and finish those last 20 pages in MENTATS OF DUNE. (Meanwhile, Rebecca is back home in a quiet house doing her detailed line edit of the first part of the manuscript.)
Tomorrow, I'll be driving home…with a side trip to the Ouray Hot Springs on the way for a wonderful soak surrounded by more mountains.  My muscles are bound to be sore.