An Alien Encounter on a Mountaintop
Last week I went off on a writing retreat to Breckenridge. Colorado, where I holed up in a ski condo to do a lot of editing work on HELLHOLE INFERNO, written with Brian Herbert, and to write a new Dan Shamble Zombie PI holiday novelette, "Naughty and Nice."  I love going to places like this off-season because it's like a ghost town, too late for summer vacationers and too early for ski season—it's quite, it's inexpensive, and I get a lot of uninterrupted work done (despite a few too many reminders of The Shining or Misery).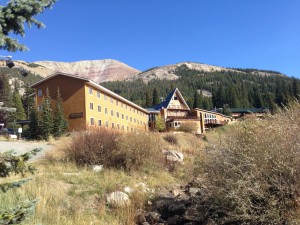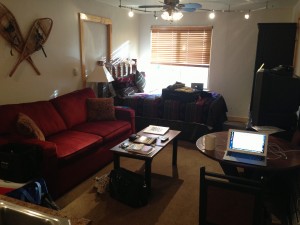 The lodge where I stayed also happened to be right near the spectacular "Fourteener" Quandary Peak (14,265 ft), and the view was just too tempting. I had only climbed one Fourteener all summer, and since the weather was bright and sunny, I decided to go on an ambitious day hike to dictate "Naughty and Nice".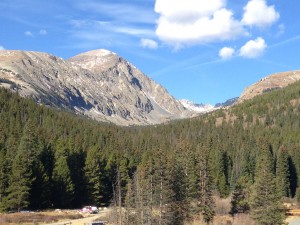 The trailhead was less than ten minutes away from the lodge, and I set off by about 9 AM, backpack loaded with many layers of varying warmths, recorder and notes.  I have climbed Quandary before, and it is considered one of the easier Fourteeners, less than six miles round trip with a 3400 ft elevation gain, but there are no "easy" Fourteeners.  Nonetheless I did get two chapters of the story done before I broke treeline, where the wind got so bad I had to stop dictating (panting was about all I could do).  I put on my jacket, my fleece, and my windbreaker.  The wind got so fierce I could barely walk, and with the already-thin air rushing so fast past my nostrils I couldn't suck any  of it in.  At about 13,500 ft, it got so bad I felt I couldn't make it to the top and I was going to have to turn around. I huddled over and slurped a pack of GU energy gel—and then the wind just stopped.  Well, then, time to go on.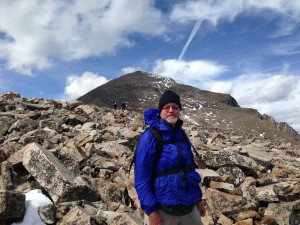 On my way up to the top, slogging over the rocks to reach the summit, I was passed by a guy in shorts and a t-shirt RUNNING up to the top (and then, not long afterward, running back down).  When I reached the summit, with snowclouds starting to blow in, I had the top all to myself for a quick lunch, a phone call home, and then I started back. (I was anxious to dictate the next section of the Dan Shamble story, but for that I had to get back down below treeline.)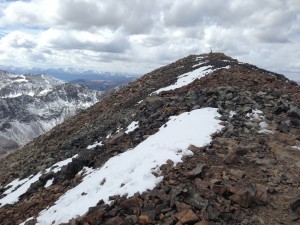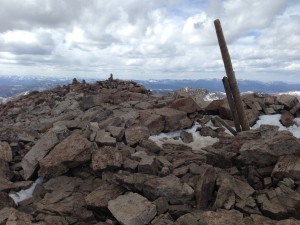 Then on the way back down, with the trail (and virtually the whole mountain) all to myself, I had the most amazing, magical encounter.  While coming down a narrow ridge at about 13,300 ft, with steep dropoffs on either side, I came upon a group of four large white mountain goats.  They were quiet, ambling along on the trail going up, while I was going down.  Mountain goats aren't known to be hostile (not known to me, at least), but they are as large as a St Bernard and have very sharp-looking black horns.  They didn't seem bothered by me at all.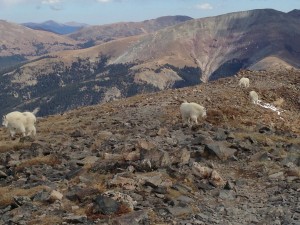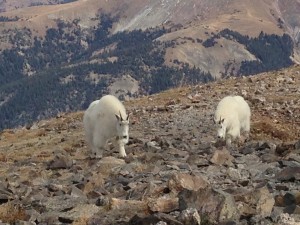 I stopped on the trail and took out my camera.  The mountain goats kept working their way toward me, looking at me, looking at the alpine scrub.  I clicked a lot of photos, and the mountain goats just walked up to me—not looking for a handout; these were completely wild.  When they were about five feet away, the lead goat stepped off the trail and politely walked past me (nearly close enough for me to reach out and touch).  The second goat passed, then the third, who stopped and just looked at me.  I looked right back, unreadable obsidian eyes, a calm and placid face.  It must have been curious, staring at me, assessing me, but I couldn't imagine what it was thinking.  Wondering what I was and why I was there?  It lasted a few seconds, and then the goat walked off after its companions and the last one followed, returning to the trail after they had passed me.  They toiled on up the slope.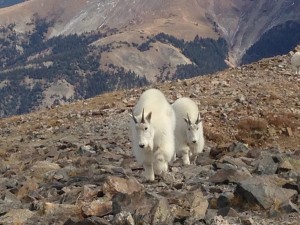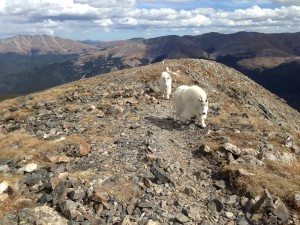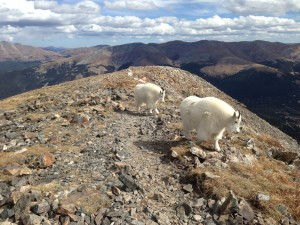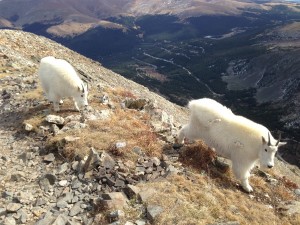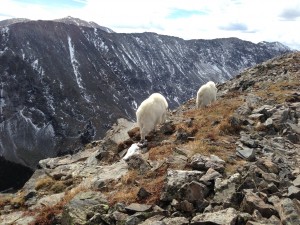 I have seen mountain goats before in the Rockies, but never so close, never in such a prolonged encounter.  I was very moved to be with them high on a 13,000-ft ridge with peaks all around, wind blowing, the smell of snow in the air.  Since I am a science fiction writer, it made me think of a human/alien encounter, two beings close to each other, both curious, neither understanding, neither (thankfully) threatening.  Looking, studying, and then moving on, going our separate ways.
When they were gone, I worked my way down, got back into the trees, and started shucking off layers of windbreakers and fleeces and gloves, until I could finally get back to my zombie detective and the story I needed to tell.  Back in the lodge, after a warm shower, I put dinner in the oven and got back to editing HELLHOLE INFERNO.  That night, snow rolled in, cutting off any further possibility of mountain climbs.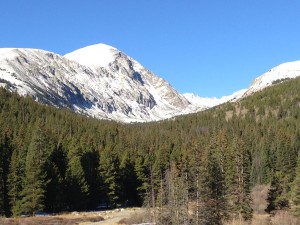 But I did have to finish dictating my Dan Shamble story (since it's a holiday story, I have to make it available soon!), so I wrote more on a wooded trail during the snowfall the next day.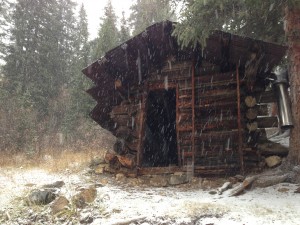 And up on Hoosier Pass, as I climbed to an old mine while writing the very last scene in "Naughty and Nice," the snowclouds thinned enough across the sun so I could get this spectacular shot of the Fourteener Mount Lincoln (14,286 ft).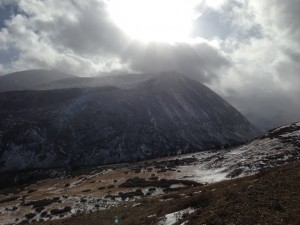 I do love my office.  (Then back the ski condo to get some editing done, then a nice long soak in the hot tub.)  Now I'm back home, HELLHOLE INFERNO is edited and off to Brian Herbert for his next round, and "Naughty and Nice" is written, which I'm polishing.