Another Martian Invasion! WAR OF THE WORLDS: GLOBAL DISPATCHES
In 1898, H.G. Wells wrote his account of the Martian invasion, as seen through the eyes of a London newspaper reporter. But if this was truly a war of the worlds, the Martian cylinders and tripods landed all across the Earth.  What other accounts would have been written by the literary figures of the day?  What did Jules Verne write about the Martians in Paris? What was Jack London's account about the Martians in the Yukon, or Mark Twain's experiences with the Martians on the Mississippi?  Albert Einstein, Teddy Roosevelt, Rudyard Kipling,Henry James, H. Rider Haggard, Leo Tolstoy, H.P. Lovecraft. Edgar Rice Burroughs?
WAR OF THE WORLDS: GLOBAL DISPATCHES gathers these accounts, written by modern-day masters of SF—Mike Resnick, Connie Willis, Robert Silverberg, Gregory Benford, David Brin, Barbara Hambly, David Farland, Walter Jon Williams, all edited by Kevin J. Anderson.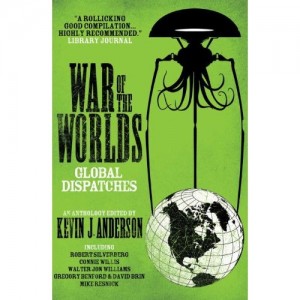 Titan Books is reissuing this anthology to accompany the other two alternate-history/steampunk titles of mine, CAPTAIN NEMO and THE MARTIAN WAR.  Copies will be available in September.