Approaching TAU CETI—Book Released Soon
My new hard science fiction story TAU CETI, with sequel novelette written by Steven Savile, arrives November 22.
The generation ship Beacon has voyaged for two centuries to reach a new planet at Tau Ceti, but just as the Beacon is about to arrive at their new home away from home, distant Earth develops faster-than-light ships…and a ruthless dictator wants to lay claim to their dream.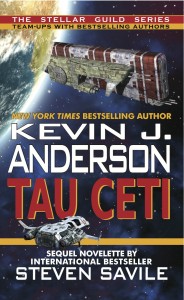 TAU CETI launches a new line from Arc Manor, the "Stellar Guild" series, that teams a bestelling author with up-and-coming talent. The book will be released in print and eBook formats on November 22.  PRE-RELEASE SPECIAL: Arc Manor has offered a special pre-order discount for the eBook version at $2.99 (instead of $4.99), if you order in the next week.  EVEN MORE SPECIAL PRE-RELEASE SPECIAL: My fans also get another 15% discount off the $2.99 price if they enter the coupon code of DIRKEV, if you order before November 15.  Go to www.PPickings.com and pre-order.