Autographed Books for the Holidays
In case you, or any other KJA fan, is in search of an autographed book as a holiday gift, a hard-to-find title, full sets, and unusual limited-edition items, keep in mind that we have a full range of Kevin's titles at AnderZoneShop.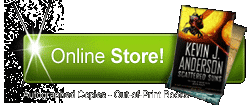 Specials include hardcover first-edition sets of HUNTERS OF DUNE and SANDWORMS OF DUNE, both autographed by Brian Herbert and Kevin J. Anderson, for $50, a complete signed set of all 7 paperbacks of "Saga of Seven Suns" for $50, all fourteen volumes of the Young Jedi Knights series (autographed by both Kevin J. Anderson and Rebecca Moesta), Terra Incognita sets of the books and the companion Roswell Six rock CDs, and many other titles.
You'll also find foreign editions, pre-release collector's items and advance reading copies, out-of-print titles, comics, and more, most for cover price or less.  Personalization available on request.  Makes a good holiday gift.
Click here to go to the AnderZoneShop page.