Book Tour Day 8: Even More HELLHOLE in LA
It seems a long time since I've spent two nights in a row in the same bed. With two signings in the greater Los Angeles area (Pasadena and Huntington Beach), we stayed at a centrally located hotel in Beverly Hills as our base.
Ken picked us up again in the morning to spend the day driving around to bookstores. I was in the room trying to upload the previous blog and photos in a very, very slow internet connection (and the cell phone dropped calls several times…funny, I would have thought Beverly Hills to be Cell-Phone Central).
We piled in the car, and Brian was very energetic because he had stayed up late and made good progress on his Sisterhood of Dune edit.  Ken had his route planned, and over the course of the day we hit ten more bookstores in the LA area and Orange County, shaking hands, signing Hellhole and all of our backstock.
The book has been in the stores for one week, and today Barnes & Noble and Borders began their front-of-store promotion with 20% off and displays on the front tables.  Even though Hellhole is an original novel, not connected with Dune, the displays and distribution are very extensive.
We also received the proposed paperback cover of Hellhole from our Tor editor, a slight shift of the design.  Always one step ahead.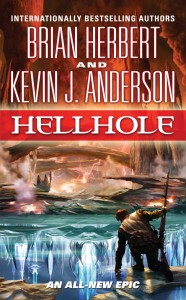 After a full day of autographing, we were low energy by the time we reached Huntington Beach. I'm thinking longingly of hitting some mountain hiking trails in Colorado, once the tour is over…but I still have more than a week left to go.  I'll recharge my batteries when it's time.
We met for dinner at the Cheesecake Factory and were joined by Shawn Gordon from ProgRock Records and his daughter Lily.  Shawn is the executive producer for my two Terra Incognita/Roswell Six rock CDs that were companions to my fantasy trilogy.  Over dinner we discussed possibilities for who might perform on the third CD, which we're just now developing…some very interesting names came up, but I'll post that news as the work proceeds.  I've already written some of the rough lyrics for the ten tracks and mapped out the storyline.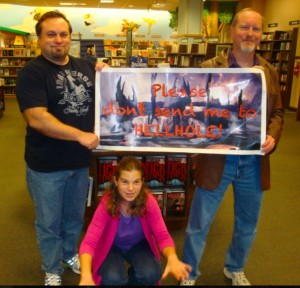 Shawn Gordon from ProgRock Recrods, Lily Gordon, and Kevin
We finished dinner with plenty of time to spare, so Brian and I went to the Barnes & Noble to go into the back room and sign hundreds of extra copies of Hellhole and the paperback copies of our other books, and then we went out to meet the crowd and give our talk.  Again, we saw some very familiar faces and signed a lot of books.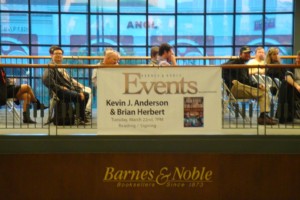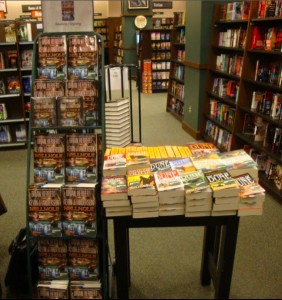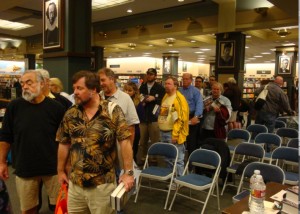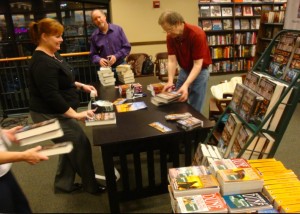 Total so far—56 dropbys, 5 formal bookstore signings, 2 mail order stores, Google talk, and 8 interviews.
On to San Diego for our signing tonight at Mysterious Galaxy.