Climbing Mt Bierstadt, 14,060 ft—the "non-solitude" Fourteener
After finishing and delivering three novels in two months, I was going stir crazy.  I wanted to get out, go hiking, get exercise, challenge myself. I've already climbed every one of the Fourteeners (54 peaks in Colorado over 14,000 ft in elevation). In sixteen years of living in Colorado I've climbed at least one 14er every summer (and sometimes snowshoed them in the winter), so I wanted to keep the record rolling.
Mt. Bierstadt, 14,060 ft, is not far and not hard, so I thought it was a good alternative for a nice day hike, just to get outside for a little while.  After maddening non-stop edits for two months, I was eager to get back to dictating fresh new chapters in HELLHOLE INFERNO.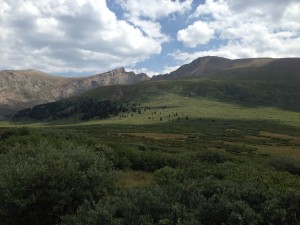 I slept in the guest bedroom, got up at 5:15 AM, and got out the door by sunrise, heading off to Georgetown and Guanella Pass and the trailhead. I have climbed Mt Bierstadt four times, once on snowshoes in winter, once by the much more difficult "Sawtooth Ridge" route (see my blog and photos about that one here.) The first time was in 1997, when the Guanella Pass Road was unpaved, the trail undeveloped, and not many people went up there.  Boy, has that changed!
When I arrived, the parking lot was filled with cars. More cars were parked all along the road on either side of the pass.  I wondered if there was a big shoe sale on the peak or something.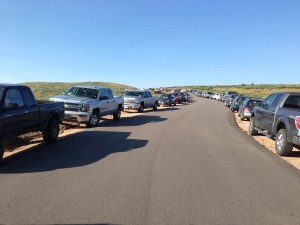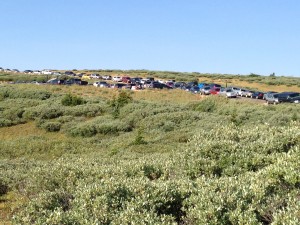 But it was a beautiful day, a trail as wide as a sidewalk, and a wonderful climb. I had my notes for several HELLHOLE INFERNO chapters, my recorder, a lunch, some Red Bull, and I was ready to go.  I set off and had to work my way around other hikers, families, kids, to get ahead on the trail.  I love it that people get out into our spectacular Colorado wilderness, but when I'm dictating about planetary conquests and alien attacks, I want a little solitude!
Other hikers were abuzz, and apparently I had missed a moose splashing in the nearby lake by about 15 minutes.  I kept trudging along a nicely cut path through the formerly infamous "Guanella Pass willows"—a dense trap that had caused me a great many problems the first time I climbed Bierstadt, but the trail is much more civilized now.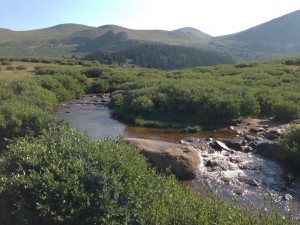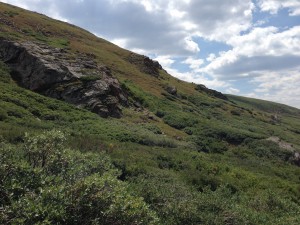 I climbed on a weekday, but I have never seen such extensive crowds. The trail up Bierstadt was like a parade, but I did manage to find enough solitude to dictate three chapters during the day. The scenery was tremendous, and I wasn't surprised so many people were out there—easy access to the trailhead, easy trail (relatively speaking; no Fourteener is "easy.")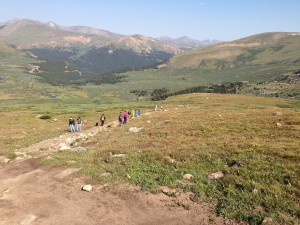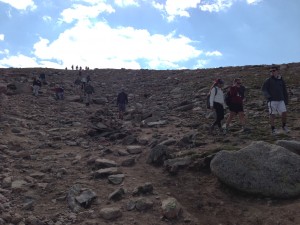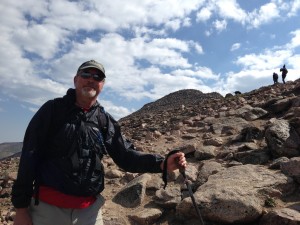 I was actually quite pleased with how good it felt—I haven't had much chance to do a lot of hiking this summer, because of my book deadlines, but I kept up a great pace on this hike, reaching the summit in two and a half hours. I passed three college girls huffing and puffing, who said "Where's the fire? You're really hauling ass!"  Hey, I wanted a good workout!
I passed a great view of the dreaded Sawtooth Ridge, the much more difficult route to the summit I had taken last summer. It looks pretty dramatic from this perspective.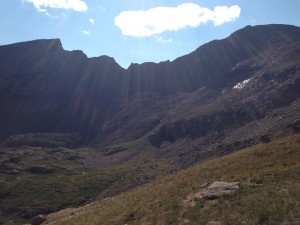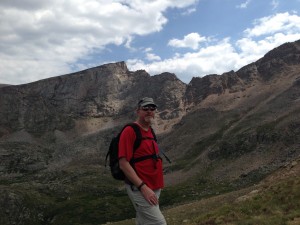 As I got closer to the summit, the crowds condensed. I couldn't believe how many people were up here at 14,000 ft. This was like a New York sidewalk!  When I arrived on top, it was like a crowd in a WalMart parking lot. I've never seen so many people on a Fourteener summit.  Finally , I learned that this was a charity hike for Childrens' Hospital, close to 200 people climbing Mt Bierstadt as a fundraiser.  I sure picked the right day.
It reminded me of years ago when I first climbed Mt Evans, another Fourteener in the area. The specific day I decided to drive up the narrow, winding Mt Evans Rd to get to the trailhead, was also the day of the great Mount Evans bicycle climb…so I had to crawl along a road at 5 mph mobbed with hundreds of bikes, none of which seemed willing to let a car go past. I was very stress-frazzled by the time I reached the trailhead, and I very much needed to hit the mountain openness to decompress.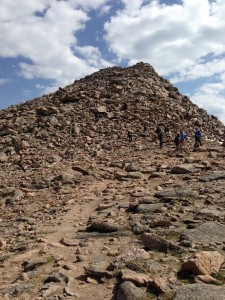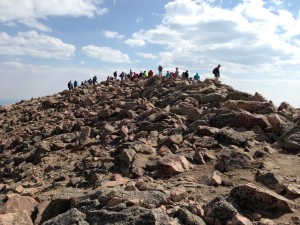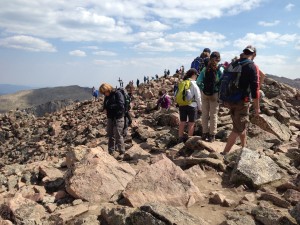 But even crowded, the views were incredible, and I took out my backpack lunch and enjoyed it at fourteen thousand feet.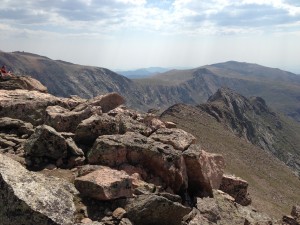 Close to a hundred people crowded the summit, and the din was deafening. Normally when I'm on a mountain summit I have it to myself, or with only one or two other hikers who like to appreciate the silence and solitude. Not so with this group, though!  Many of them were teenage girls who giggled, screamed, shouted, and broke into a chorus of "She'll be coming 'round the Mountain."  I decided it was time to leave, so I set off, heading down.  Unfortunately, fifteen of the loudest girls decided to come down at the same time, following about ten yards behind me.  I tried to go faster; they kept up!  One of them even remarked loudly "The best thing about going downhill is that we're not out of breath, so we can talk the whole way!"  ARGH!  I have never heard so much trail-chatter in my life.  I finally gave up, went off the trail to explore some rock outcroppings (to give the girls a chance to get far, FAR ahead), and finally had enough elbow room to start dictating another chapter.
I loved this hike, great scenery and great exercise, but next time I think I'll choose one a little more difficult and a little more remote.