CLOCKWORK ANGELS: Special "Watchmaker's Edition"
Now this is really cool.  Brilliance Audio is creating an amazing special edition for their unabridged audio of CLOCKWORK ANGELS: The Novel, read by Neil Peart.  A special packaging designed in part by Hugh Syme, a real clocktower and a working clock, stained-glass insets! Preorder for $79.99.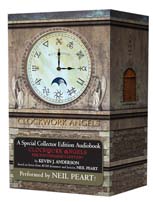 This special edition features the complete, unabridged audiobook packaged in a unique, working upright clock tower designed by the band's album cover artist, Hugh Syme. Intricately themed and largely handmade, this is a beautiful and functional design piece that will be a must-have for Rush fans and steampunkers alike.
Did I mention that it's pretty cool?  Order from Audio Bookstand.  The special Watchmaker's Edition will be released on March 1.