Concerts and Aspens
It's been a fun two days, from loud music and crowds to utter silence and mountain beauty—and I loved both.
On Tuesday, thanks to the efforts of our friends David Boop and Peter J. Wacks, we got tickets and backstage passes to see the Dandy Warhols in the legendary Bluebird Theater on Colfax Ave in Denver.  The Dandy Warhols had been on the edge of my musical radar, but we were happy to see the concert; I spent the afternoon listening to a lot of their YouTube tracks, getting familiar with the music. As a point of connection, Peter and David had written a Veronica Mars novel, FAST TIMES AT NEPTUNE HIGH, which WordFire Press published through Kindle Worlds—and the Dandy Warhols did the VERONICA MARS TV theme music.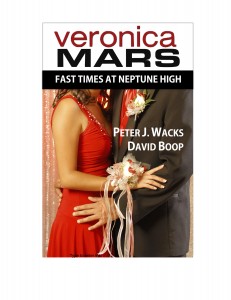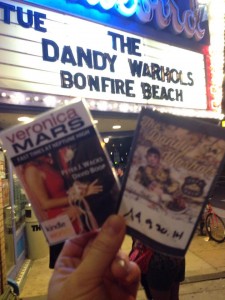 We enjoyed the concert and afterward we all went back to chat with the band members (in a veritable dungeon beneath the Bluebird!)  Lead singer Courtney Taylor-Taylor and keyboardist Zia McCabe were both fans of our books, both big readers.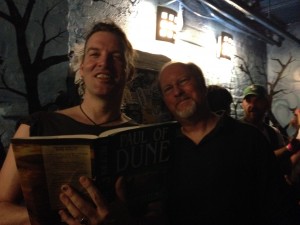 Courtney Taylor-Taylor tries to enjoy PAUL OF DUNE in the dungeon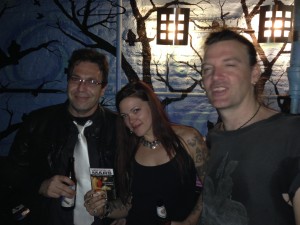 Peter J. Wacks with Zia McCabe and Courtney Taylor-Taylor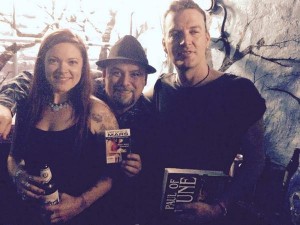 And David Boop with Zia and Courtney
Rebecca and I got home late, crashed…and the next morning I headed out for a nice hike, wanting to get in some more mountains before the weather turned wintry. Unfortunately, a winter storm was indeed on the way, so I couldn't go up to climb the mountain peaks I had expected.  Instead, I did a great hike in lower mountains with a spectacular view of Pike's Peak. With all that wilderness and inspiration, I did a chapter and a complete story in CLOCKWORK LIVES—and some great stuff it was, too!  (I am really enjoying this book…it is wonderful to be back in Albion with old friends like the Watchmaker, Mrs. Courier, and others…)