A Convention and Book Tour in Poland, Part 3
Next day, Sunday, I had another interview in the morning, then a two-hour author panel, this time with an interpreter (which I found much more difficult, trying to listen to the questions and the simultaneous translation), but we did just fine.  This time more than a hundred people were in the audience, and I had another lengthy autographing…complete with Star Trek Redshirts, Dune fans, Star Wars fans, even some who had copies of my old SF novel with Doug Beason, ASSEMBLERS OF INFINITY, which was my first Polish translation.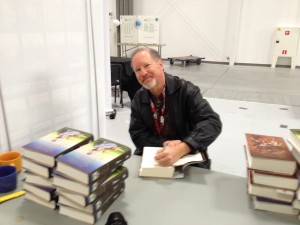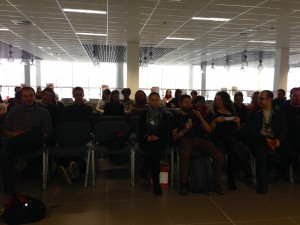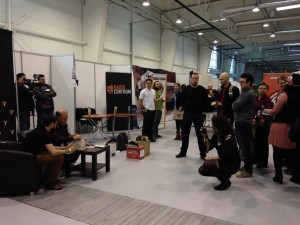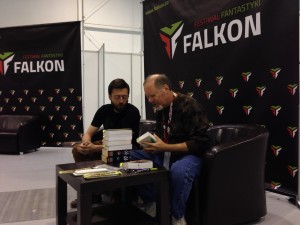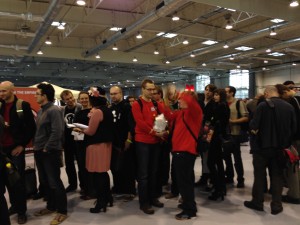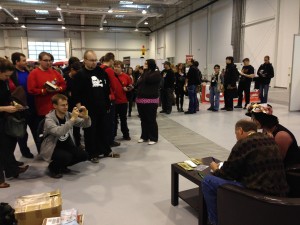 As a surprise, I was inducted as an honorary member of the Manda'Yaim—the Polish Mandalorian Community (though they were not in bounty hunter armor), complete with framed plaque.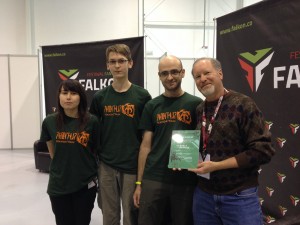 Followed by another TV interview, I was done with my Falkon duties. I gave out my last gifts to staff, and Krysz presented me with a bottle of Polish vodka (now carefully packed in my suitcase).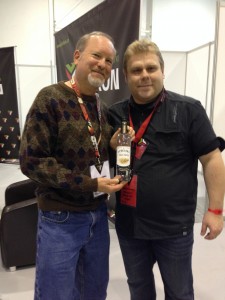 A gift of Polish vodka from Falkon chairman Krzystof Ksieski
Then Voitek took over one last round of tourguide duties, and we hailed a taxi to go visit Majdanek, an infamous Nazi death camp on the outskirts of Lublin. We arrived just after dark, and the museum was closed, but we spent some time walking around the silent and eerie place, before heading off to dinner in Old Town.  I actually had an early evening, got back to the hotel where I hung out in the lobby, posted a bunch of my photos, then made good progress in proofreading DARK BETWEEN THE STARS…almost finished.
Monday morning, after breakfast in the hotel, it was time for the road trip back to Warsaw, sitting in the back of the car chatting with Kacper as TIE-pilot Mark tore up the Polish highways. This was Polish Independence Day, a national holiday, but known more for political demonstrations and rallies than fun celebrations, so we avoided downtown. I checked into the hotel and did some more reading before going out to dinner with Kacper and Ola—we went to an American-themed restaurant, barbecue, steaks, burgers, country & western music playing. Now that was real culture shock!  I would rather have had traditional Polish food again, but my friends were anxious to learn how the American food compared with the real stuff. Cheeseburger, fries, chicken wings…all done properly (even though I rarely eat them myself in the US).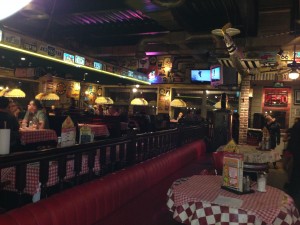 Jeff's American-Style Diner in Warsaw
with Kacper and Ola

And when I got back to the room, fairly early, I spent an hour finishing up the proof of 943-page THE DARK BETWEEN THE STARS…a massive manuscript I've been hauling around.  All done, and now packed at the bottom of my suitcase.
This morning, Tuesday, over breakfast, I started tackling the final proofread of the galleys for MENTATS OF DUNE…that one's only 445 pages long (typeset).  While I was reading in the breakfast room, cup of coffee at my side, the nervous-looking waitress kept hovering at the edge of the room and finally got up the nerve to come over with a scrap of paper and ask me in broken English for my autograph because she likes my Star Wars books. A delightful surprise, and a good way to start the day before I head out for one more day of sighteeing in Warsaw, and then the long (and hopefully uneventful) flight home tomorrow.
Now, if the internet signal is strong enough, I'll try to post this…