Cover released for CLOCKWORK ANGELS: The Novel
We're very pleased to show off the just-released cover for Clockwork Angels: The Novel—one of my most beautiful covers ever. The central image is from the forthcoming Rush album, with the type and cover design by Neil Peart and Hugh Syme.  ECW will publish the hardcover in September (available for preorder now), a full-color volume with paintings and complete lyrics (and the novel itself, of course). From the sample pages I've seen already, this will be a gorgeous book.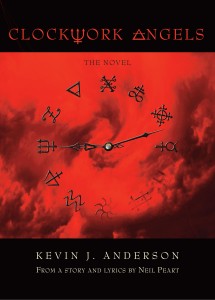 The novel is a colorful steampunk fantasy, and I think it has a great deal of heart. Neil and I are very pleased with how it turned out—the creative synergy was amazing. Clockwork Angels: The Novel follows the story mapped out in the songs of the album, but the book isn't only for Rush fans (then again, who isn't a Rush fan???). I hope you'll all enjoy the read.
Three of the tracks have already been released, which give a glimpse of the story: Caravan, BU2B, and Headlong Flight. The album itself comes out June 12.