DEATH WARMED OVER for $1.99 (or, better yet, FREE!)
To show their enthusiasm for the series of Dan Shamble, Zombie PI, Kensington Books is running a special for the first volume in the series about everyone's favorite zombie detective.  DEATH WARMED OVER is now only $1.99 in all major eBook formats.  BUT it runs only through Friday, August 16.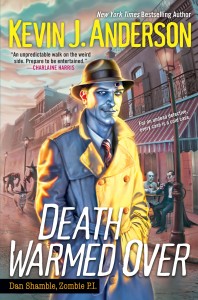 Not good enough?  OK, for readers worldwide, outside the US and Canada, Kobo is offering DEATH WARMED OVER for *free*—worldwide readers can get the first novel in the series for free.  Just go to http://store.kobobooks.com/ and enter the code "SHAMBLEON" to get your free copy.  Be sure you choose the book with the cover art below.  I hope you love Dan Shamble as much as I do.