First Hugo Award Nomination
Politics aside, please.
I am very pleased to announce that the first book in my Saga of Shadows space opera epic, The Dark Between the Stars (Tor Books, June 2014) is a finalist for the 2015 Hugo Award to be presented at Sasquan, the World Science Fiction Convention.  Over the course of my career I've published over 120 books and I've won or been nominated for the Nebula Award, Bram Stoker Award, Shamus Award, and others, but never the Hugo Award.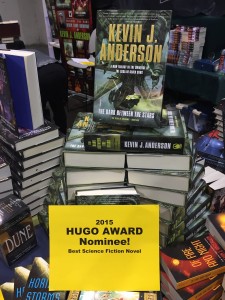 I grew up in science fiction and I've pretty much spent my entire life and career in the field. When I was a kid in a small town in Wisconsin, making regular trips to the science fiction section in the local library, the "Hugo Award Winner" label was synonymous with "You Must Read This"—the big deal, Academy Award in the field. Starship Troopers, A Canticle for Leibowitz, Stranger in a Strange Land, Dune, Lord of Light, The Left Hand of Darkness, Ringworld, Rendezvous with Rama, The Forever War...
My Saga of Seven Suns universe is my love letter to the genre, a big canvas that allows me to play with all the beautiful shiny objects that captured my imagination. Galactic empires, alien races, deserted cities, space battles, killer robots, romance, politics, and a sweeping cast of characters cutting across all races, genders, and social station. I have commuted to work there in my imagination for the past eleven years, and I couldn't be more pleased that The Dark Between the Stars is the book put up for consideration.
I'm up against some excellent competition, and I look forward to reading them all:  Ancillary Sword by Ann Leckie, The Goblin Emperor by Katherine Addison, Lines of Departure by Marko Kloos, and Skin Game by Jim Butcher. If you are interested in attending Sasquan, or buying a supporting membership to vote on the awards, see their website at http://sasquan.org.  And if you do vote, I very much hope you will read all the candidates before you make your choice.
In the meantime, if you want a much shorter introduction to the Seven Suns universe, I've written a prequel novella, Veiled Alliances, published by WordFire Press. It's available in print and in all eBook formats.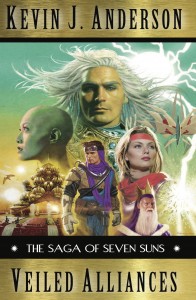 Veiled Alliances is now featured as part of a science fiction bundle from Humble Bundle, seventeen books all DRM free, pay what you want, including titles by myself, Mike Resnick, Cat Rambo, Jody Lynn Nye, Brian Herbert. Doug Beason, Neil Peart, Peter J. Wacks, James A. Owen, Michael A. Stackpole, Frank Herbert, Bill Ransom, Mike Baron, David Farland, and Rhiannon Paille.  Only six days left before it gets taken down.  A portion of the proceeds goes to the SFWA Emergency Medical Fund and the Challenger Center for Space Science Education.