Funny As Hell for Halloween—BLOOD LITE: OVERBITE
Just released in mass-market paperback, in time for Halloween!  From the Horror Writers Association comes a brand-new collection of darkly humorous tales!  Includes an original story I wrote with Grammy-winning music legend Janis Ian (while she cowrote lyrics with us for the second Roswell Six Terra Incognita rock CD). Blood Lite 2 also includes stories by Kelley Armstrong, Heather Graham, LA Banks, Allison Brennan, Sharyn McCrumb, J.A. Konrath, Mike Resnick & Lezli Robyn, Mike Baron, Ed Bryant, Nina Kiriki Hoffman, Scott Nicholson, and others.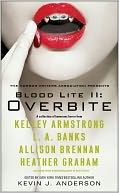 The Big Questions of Life (and Death): Can a killer's basement blood-feast be a tax write-off (under Entertainment)? Not if Vlad the IRS agent nails him first in Heather Graham's "Death and Taxes." What does a pack of hungry she-wolves do to solve their man troubles? Ladies Night Out takes a wicked turn in "Dog Tired (of the Drama!)" by L. A. Banks. How far will an elite call girl go to beat a murder rap? Stuck with a dead client in a luxury L.A. hotel room, she might strike a costly bargain with a woman of unearthly powers in Allison Brennan's "Her Lucky Day." Who actually writes those tabloid stories about Bigfoot? Meet a journalist of the unexplained (she's 50 percent demon) and her boyfriend (he's 100 percent thief), as they heat up a museum exhibition that's also a soul-snatching battleground in "Lucifer's Daughter" by Kelley Armstrong.
Plus tales from KEVIN J. ANDERSON & JANIS IAN • SAM W. ANDERSON • MIKE BARON EDWARD BRYANT • AMY STERLING CASIL • DEREK CLENDENING DON D'AMMASSA • BRIAN J. HATCHER • NINA KIRIKI HOFFMAN • NANCY KIRKPATRICK • J. A. KONRATH • JOHN R. LITTLE • SHARYN MCCRUMB • SCOTT NICHOLSON • MARK ONSPAUGH • AARON POLSON • DANIEL PYLE • MIKE RESNICK & LEZLI ROBYN • JEFF RYAN • DL SNELL • LUCIEN SOULBAN • ERIC JAMES STONE • JEFF STRAND • JORDAN SUMMERS • JOEL A. SUTHERLAND • STEVE RASNIC TEM • CHRISTOPHER WELCH