THE GARBAGE CHRONICLES Available Again
Brian Herbert's 1985 novel THE GARBAGE CHRONICLES is once again available.  The book has been out of print for many years, available only in used bookstores and from collectors.  Now, as with most of Brian's backlist, WordFire Press has reissued the novel in all eReader formats for under $5.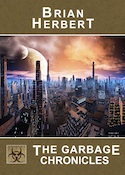 Kindle
Nook
other eReader Formats
In the super-consumer society of the future, recycling is illegal, and Earth's garbage is catapulted into deep space. But as humankind reluctantly learns, what goes up must come down. . . . In this rollicking, thought-provoking, highly imaginative exploration, Brian Herbert shares the environmental concerns of his father, Frank Herbert.  THE GARBAGE CHRONICLES is a sequel to Brian's first novel, SIDNEY'S COMET, also available from WordFire Press for $3.99.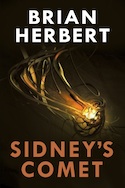 Kindle
Nook
other eReader Formats
Bestselling author Brian Herbert's hilarious first novel. For centuries the slops that inhabit the Earth have been rocketing their refuse into the Galaxy, carelessly littering the cosmos with wrappers and peelings and bottles and cans. But now the universe is about to get even. An immense comet of garbage has been sighted on a collision course for Earth! Only one man can stop it: a human discard, a lowly government worker who dreams of becoming a Space Patrol Captain but could never pass the physical—the unheroic, the imperfect, the one-and-only Sidney Malloy!
Also, WordFire Press will soon release two of Brian Herbert's new, never-published novels, The Stolen Gospels and The Lost Apostles.