HELLHOLE AWAKENING sticky-notes *free*
This could be a disaster!
We've produced colorful and cool sticky-notes for HELLHOLE AWAKENING, and we'd like to give you a pack *free*.  Just send a self-addressed business envelope (at least 4 x 8.5″) with 46¢ postage to AnderZone, PO Box 767, Monument  CO 80132.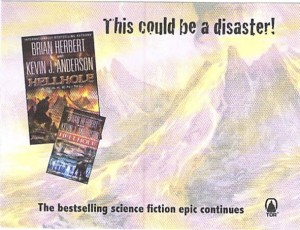 Or, as an alternative, you can also get a pad at any of our HELLHOLE AWAKENING book signings (and I'll have many other giveaways and door prizes at my events, too).  Check out the full TOUR SCHEDULE.
HELLHOLE AWAKENING will be released from Tor Books next Tuesday, March 26.