HELLHOLE AWAKENING tour—Houston and Seattle
Moving from city to city, day to day. The schedule is so tight I didn't have time to do a blog the last couple of nights, though I did download and post some photos on Facebook  (If you want to check out the regular updates, please join my Facebook page.)
Thursday night I was in Houston, flew in from Dallas and spent part of the afternoon editing THE DARK BETWEEN THE STARS (I came on tour armed with notes and comments from my batch of test readers, though it's difficult to get deep concentration time while on the road).  Brian and I did an interview by phone in the afternoon, and then I got together with some dedicated Texas Rush fans I had met at RushCon last October—we went out to Gatlins, a hole-in-the-wall but fantastic BBQ place (gotta do that at least once in Texas), then went to B&N for a good crowd at the signing, as well as a batch of dedicated 501sters in full regalia. Gave out some petrified gummi sandworms, door prizes of t-shirts, coffee mugs, and advance reader copies.  I signed a lot of HELLHOLE AWAKENING copies, as well as CLOCKWORK ANGELS and Dan Shamble, Zombie PI.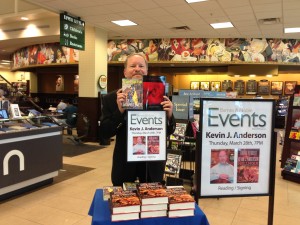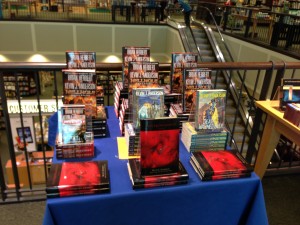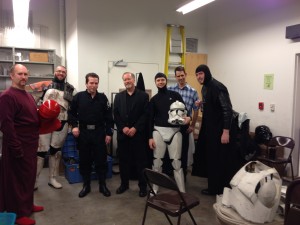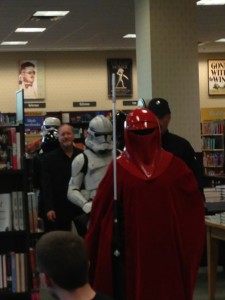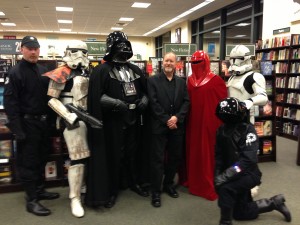 Right now I'm in Seattle, a book-signing last night at University Books and attending the large SF convention Norwescon all weekend.  As soon as I arrived at the hotel, I met up with Brian Herbert so we could spend the afternoon brainstorming. Immediately, we ran into a succession of old friends, Terry Brooks, Duane Wilkins and Art Boulton from University Books, Kuo-Yo Liang from Diamond, Pierce Watters from Pathfinder/Paizo…and we rapidly realized we weren't going to get much brainstorming done!  So Brian and I went to a diner several blocks away and spent the next several hours hammering out the main plot of NAVIGATORS OF DUNE.  Some great grand-finale scenes…though I think the waitress was a little disturbed when we kept arguing over who we would kill and how bloody it was going to be.
Brian's wife Jan joined us, and we had dinner with Duane Wilkins before going off to the book signing, at a church across the street from the bookstore.  We had chairs set up in the chapel—so there we were in a church, on Good Friday…um, talking about Hellhole.  We had a stormtrooper escort, another contingent of Rush fans, some Dune fans, Star Wars fans, and a good crowd of supporters.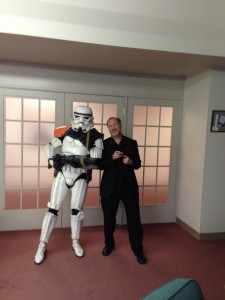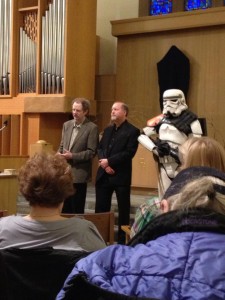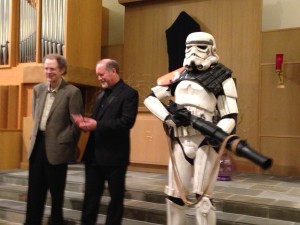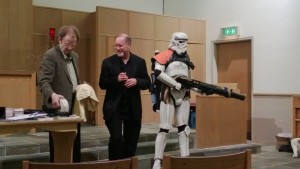 Today I could sleep in, no formal obligations until 1 PM for a panel about world building. Didn't set the alarm, just slept until I was well rested, lounged around until I felt awake, rolled over to look at the time. 5:22 AM. *sigh* Bouncing around time zones is a bummer!
I did have breakfast with Tony Daniel from Baen Books, and we'll have a very exciting announcement soon about WordFire Press and Baen…but not right now while I'm in the whirlwind of tour!  Monday I'll be in Atlanta and Tuesday in Dayton, and then in Richmond VA for RavenCon all next weekend.  Hope to see you at one of the stops.