Hotel Details for 2013 Superstars Writing Seminar
We have finalized the hotel details for those attending the 2013 Superstars Writing Seminar in Colorado Springs this coming May 14–16.   We have a special rate at the stunning hotel, the Antlers Hilton, right at the base of Pike's Peak, $109 per night, which includes free parking in downtown Colorado Springs.  This historic hotel has plenty of creative vibes—it's the very place where Katharine Lee Bates wrote the song "America the Beautiful" in 1893.  So come and see those "purple mountain majesties above the fruited plain"!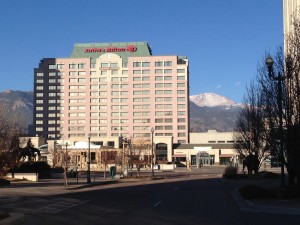 The hotel is already sold out for regular visitors during these dates, but we still have a Superstars special rate. When signing up, please use the special code SSWS13.
We hope to see you at this intensive three-day seminar on the business of writing and publishing. It's taught by international bestselling authors Kevin J. Anderson, David Farland, Eric Flint, and Rebecca Moesta, with this year's guest speakers artist and YA author James Artimus Owen, bestselling romance author Joan Johnston, Baen Books editor Jim Minz, and Kobo eBook executive Mark Leslie Lefebvre.  For more information see the Superstars site.