Last Day of the West Coast HELLHOLE Tour
Since the past two days in LA did not start early, I had caught up on my sleep. Wednesday, however, I was scheduled for an hour-long interview at 7 AM with a Denver radio station, KHOW, to talk about my Thursday signing in Denver.  Brian and I had train tickets to San Diego a couple of hours later, and the hotel desk warned us we might not have enough time to get to the train station.  I called ahead, hoping to start the interview a few minutes earlier in order to give us a little more travel time. As the interviewer and engineer were juggling ideas to fill the extra minutes at the end of the hour, the hotel's phone line dropped the connection—twice—during the interview (fortunately, it was taped for broadcast later that morning, not live). The interviewer had read all of the Dune novels, both Frank Herbert's and ours, and told me that the Archbishop of Denver is also a fan.  We had a good fifteen minutes on the air, but with the clunky phone connection, we agreed to do another full interview later, after I get home.
(And I do get to go home, for 24 hours, today, before heading off again on the second half of the tour.)
After being on the road from city to city, bookstore to bookstore, for eight days, I really lose track of what day of the week it is or which hotel room I'm in. We are focused on which event is next, getting to the interviews on time, setting up plans for the next few days, and trying to make time for special friends at dinner.
On the three-hour train trip to San Diego, Brian and I had very nice seats at a table, sitting across from each other, so we could some good writing and brainstorming time.  Brian is past page 600 in The Sisterhood of Dune, and I've now sketched out 70 chapters in Hellhole Inferno…all the various storylines are coming together nicely.
Severe rainstorms had been predicted for San Diego, and our media escort Larry sent a message ahead that a downpour might play havoc with the traffic, so he recommended we head out to dropby stores right away. He met us outside the train station—and it was a beautiful, sunny clear-sky day…one of the perfect San Diego days so familiar from all my times here at Comic Con.  (The city seemed half empty now, on a normal day.)  So much for the predicted rain, but we didn't want to waste time regardless.  (Relaxing is for wimps.)  We dropped off our bags at the hotel; Brian and I had each eaten a sandwich on the train, so we skipped lunch (although after the coffee on the train, a Starbucks stop was required).  Larry had planned an easy schedule for us, but we convinced him we wanted to do as many dropby signings as possible.  Signing books and meeting bookstore staff and fans is, after all, the point of the tour.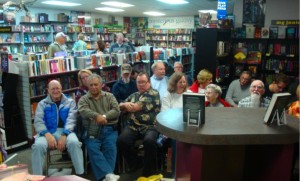 Fans at the Mysterious Galaxy signing
San Diego is a gorgeous city with gorgeous weather and I have visited many times. As Larry drove us all over the area, though, Brian and I paid little attention to the scenery; he was in the back seat with the laptop, busily editing, while I caught up on emails and phone calls on my new Droid. (This trip is giving me plenty of opportunity to practice using many of the phone's capabilities.)  From 1–5 PM we stopped at eight bookstores around the greater San Diego area, then stopped for a delicious sushi dinner at a local Japanese restaurant.  Being on the road, eating every meal in restaurants, it's not always easy to eat fresh and healthy food…and I don't always have the willpower to choose the healthy option on a menu full of much more delicious-sounding items. I also miss my daily workout to keep in shape; either there isn't the time or the facilities to do what I would like…Brian is much better at devoting an hour to hit the gym.  But I'll have a chance to recover after I get home.
(Did I mention I get to go home for a day ?)
Our evening signing was at Mysterious Galaxy bookstore, one of our biggest supporters and our hosts at every West Coast Dune tour.  Patrick, one of the managers store, was even a test reader for my novel Hopscotch…which is dedicated to Brian Herbert.  (Yes, the connections go in all directions.)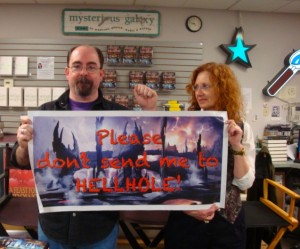 Patrick and Christine of Mysterious Galaxy
We had a crowd of "regulars" as well as some new faces. Phil, probably the biggest Dune fan we've ever met, has been coming to our signings there for more than a decade.  We slipped into the store a little early and chatted with the staff and the audience as we took care of signing more than 100 pre-sold copies and store stock, then gave our talk, answered a lot of questions, and autographed a lot of books.  Afterward, one elderly couple who had been married for fifty years told us that when Brian and I give our talk, we sound and interact just like they do, completely in tune.  We found that very touching.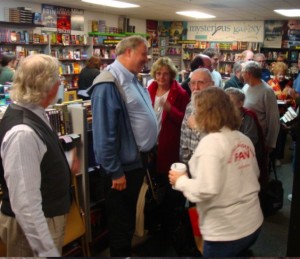 By the end of the signing, the predicted torrential rain was hammering down. Patrick (and his umbrella) escorted us to Larry's car.  Arriving back at the hotel, Brian and I did a high-five for completing the first leg of the tour, from Seattle down to San Diego; Brian now heads back home, while I continue for another week to Denver, Lexington, Dayton, Chicago, Atlanta, Dallas, and Houston.  In the first week, we did 60 dropby signings, two mail-order store signings, and six formal bookstore events.
We both had to get up at 4:30 AM so that Brian could catch an early train, and I could get to the airport for my flight home.  Even so, that didn't stop me from going around the corner (in the continuing downpour) to the Karl Strauss microbrewery to have a celebratory India Pale Ale at the end of the night.
Next up: Thursday signing at the Highlands Ranch Tattered Cover bookstore, 7:30 PM.