Modern Day Warriors: Rushcon and Grand Finale of R40 Rush Tour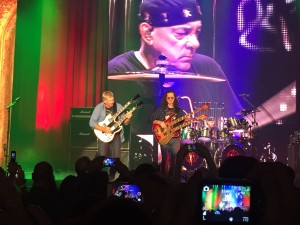 The word "awesome" is overused, but last weekend was truly an awesome weekend. Rebecca and I flew out to LA, where I was a guest speaker at the 15th Rushcon (the international convention for Rush fans, of course), and then the final Rush concert for their R40 tour (possibly the final Rush concert ever).
Awesome, as I said.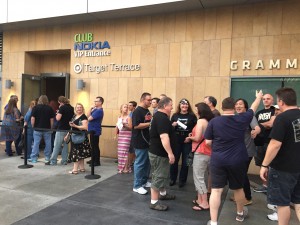 Raccoon started with a fun mixer and really-tough Rush trivia games at the Nokia Lounge by the Staples Center. (Yes, my team won one of the prizes!) and then the next day the actual con began at the Belasco Theater. I gave a keynote speech about growing up with Rush and how their songs have inspired me, which led to (I think) some of my best books ever, Clockwork Angels and the forthcoming Clockwork Lives.
Then I was joined by Matt Scannell, frontman of Vertical Horizon, who has also worked with Neil Peart. Matt performed an acoustic set, and then he and I did a Q&A for the audience.
The main event, though, was the Rush concert that night at the Forum in Inglewood. Rebecca and I were invited in early to see the soundcheck (I think I've used the word "awesome" too much already), and watching Rush practice the heart-wrenching "Losing It" with violinist Jonathan Dinklage left me a wreck and in tears (If you don't know the song, go listen to it now. It's on the Signals album. Go on—now.  I'll wait.)
After dinner, we went to our seats with our friend and guest Jeramy Clark. Center stage, eight rows up. Perfect. Just perfect.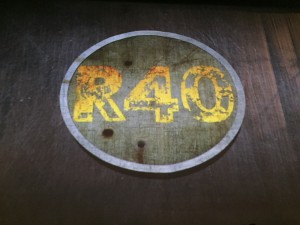 And then…the concert. Everyone in the audience had the feeling that this might be the last concert ever, after forty years of performing together. Anticipation, bittersweet excitement, but amazing music. I will let the pictures speak, instead of the words: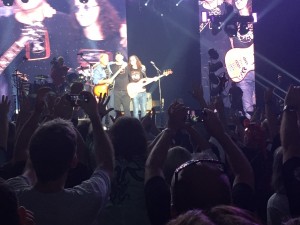 As Neil's drum solo began, I had a heavy heart, again thinking this might be the last one I would ever hear…but after that I was watching Neil's face. He normally has a studious full-concentration expression, entirely into his drumming, but he began to SMILE. He actually grinned for the last songs, and I guessed it was because he knew he was in the home stretch. And then the finale, an amazing incredible performance of their very first single "Working Man"—wow.
Afterward, he emerged from the drum kit and stood with Geddy and Alex, his bandmates for more than four decades.  The first time *ever* in forty years he had emerged to stand with them.
We went to the afterparty following, spent time with Matt Scannell, Doane Perry (from Jethro Tull), and Jonathan Dinklage. And great congratulations for Neil.
I can't express how much effect Rush has had on my career and on my imagination. They have inspired me, motivated me, and raised the bar for everything I wanted to do. Listen to their music. Hear what it can do. There's something here that's as strong as life. I know that it will reach you.
And for anybody interested in reading the novel Clockwork Angels I wrote with Neil Peart, plus a sampler from our followup Clockwork Lives, and a book about the influences of Peart's work, they are all part of a new rock-themed Humble Bundle, which only runs for FOUR MORE DAYS. check it out at https://www.humblebundle.com/books