more FIVE BY FIVE—and this time there's No Surrender
If you're looking for a great selection of new military science fiction, we've got five new short novels for you.  FIVE BY FIVE 2: No Surrender contains five military SF novellas by five masters of military SF, just out now in print and in eBook form from WordFire Press. This volume has action-packed works by William C. Dietz, Kevin J. Anderson, Aaron Allston, Brad R. Torgersen, and R.M. Meluch.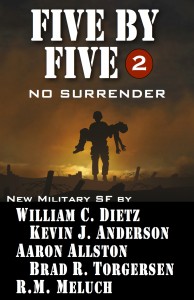 LEGIO PATRIA NOSTRA—by William C. Dietz. The insectoid Ramanthians have occupied Earth, and the Confederacy of Sentient Beings needs assistance from the xenophobic Hudathans in order to survive.  But some Hudathan relics have been stolen, and the Hudathans won't join the Confederacy unless Legion Captain Deacon Smith can get them back.  And that's going to be difficult because the thieves are ex-legionnaires—and they have a platoon of heavily armed cyborgs! A Legion of the Damned® story.
PRISONER OF WAR—by Kevin J. Anderson. Set in the world of Harlan Ellison's classic Outer Limits episode "Soldier," this is a tale about a set of warriors in a never-ending future war, men bred for nothing but the battleground—and how they cope with the horrors of…peace.
REARDON'S LAW—by Brad R. Torgersen. When expensive, classified shipments of military hardware go missing, Conflux Armed Forces policewoman Kalliope Reardon is called in to work the case.  She gets way more than she bargained for, as the trail takes her far outside the boundaries of the civilized galaxy, and into the heart of occupied enemy territory.
DAGGER TEAM SEVEN—by R.M. Meluch.  The evidence is clear and damning—A.C. Cade was a fraud. Cade's son makes himself into the man he used to believe his father was—a pilot of an elite Dagger Team, defending Earth against a desperate alien invader which has no use for humankind and absolutely nothing to lose.
COFFEE BLACK SEA—by Aaron Allston. The saga of the Dollgangers from "Big Plush" (Five by Five Vol. 1) continues. Bow, BeeBee, Lina, and new 'gangers escalate the risks of their quest for survival…by turning their eyes to the stars.
All eBook editions only $4.99
Kindle
Kobo
Nook
All other eBook formats
And, incase you missed the first FIVE BY FIVE volume:
It's a war out there! Five all-new military SF novellas by five masters of military SF—this collection includes works by Aaron Allston, Kevin J. Anderson, Loren L. Coleman, B.V. Larson, Michael A. Stackpole.
BIG PLUSH by Aaron Allston (a novella from the Action Figures series)—The Dollgangers, artificial people made in mankind's image, take up arms in a desperate bid to win their freedom.
COMRADES IN ARMS by Kevin J. Anderson—A damaged cyborg soldier and an enemy alien fighter turn their backs on the war and try to escape. But the human and alien governments can't tolerate the two deserters working together, so they join forces to hunt them down.
SHORES OF THE INFINITE by Loren L. Coleman (a novella from the ICAS File series)—Separated from command & control, Combat Assault Suit troopers force a beachhead to liberate a new planet from the cyborg threat.
THE BLACK SHIP by B.V. Larson (a mech novella from the Imperium Series)—A human settlement on the deadliest planet ever colonized clings to life … but today new invaders are coming down from the stars.
OUT THERE by Michael A. Stackpole—The Qian have discovered humanity and welcomed them into their star-spanning empire. The benefits they offer humanity are many, and they don't want much in return: just the best human pilots available to take apart a most diabolical enemy.
PRINT EDITION $13.06
AUDIBLE edition  $4.95
all eBook editions $4.99
Kindle
Kobo
Nook
All other eBook formats