More New Frank Herbert Work
WordFire Press is pleased to released the fourth, and last, of Frank Herbert's previously unpublished novels.  A THORN IN THE BUSH is an atmospheric and tense short novel set in an isolated Mexican town, just released in trade paperback and all eBook formats.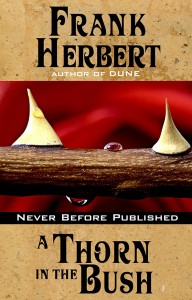 Everything of beauty must have at least one flaw in it. Otherwise people do not realize how beautiful it truly is.
Mrs. Ross is an expatriate American who has found a quiet life in the small Mexican village of San Juan, a place where she can be content, a place where no one knows the secrets of her shadowy past life. Until an ambitious American painter takes up residence in San Juan, attempting to depict—and expose—everything about the sleepy Mexican town. But he may have underestimated the lengths a seemingly harmless old woman will go to protect her secrets.
 A Thorn in the Bush is one of four previously unpublished short novels written by famed Dune author Frank Herbert. Early in his career Herbert moved his family to Mexico where he struggled to survive as a writer. This novel came from those life-changing experiences.
Print
Kindle
Kobo
Nook
All other eBook formats
And I just edited a new anthology for the Fiction River line, PULSE POUNDERS, which includes a new and never-before-published Frank Herbert thriller story, "The Yellow Coat," as well as a new SF thriller by myself and Peter J. Wacks, new fiction from David Farland, Kristine Kathryn Rusch, and many others. You can get the book in print and all eBook formats. The special Kobo edition, however, has two free bonus stories.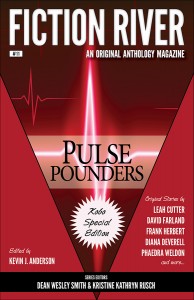 Starts with a bang. Ends with a bang. And a lot of bang in between.
Pulse Pounders. Ranging from straight thriller to science fiction, fantasy to pulp adventure, these stories make your heart race. Share the excitement as a woman held hostage in a chair has only a few minutes to escape; a man trapped in a time loop revisits a crisis point in the past; and a mother hunts after a psychotic lover who has stolen her child. Including an original never-before-published Frank Herbert story, these page-turners show why Adventures Fantastic says Fiction River "is one of the best and most exciting publications in the field today."