For Nanowrimo: Two New Books on Writing
If you're one of the millions of writers participating in National Novel Writing Month, NaNoWriMo, or just a writer interested in improving your craft, you might be interested in two writing books just released in print and eBook by WordFire Press.
I have given many workshops on Worldbuilding at conventions and conferences. I've built gigantic galactic empires and steampunk worlds and gritty urban fantasy settings. I pulled together all the information I share in the workshop, as well as some additional material, and published it in WORLDBUILDING: FROM SMALL TOWNS TO ENTIRE UNIVERSES.
I describe mytechniques in creating a rich fictional setting, leading writers through the countless questions and topics one must consider. Whether it's geography, climate, politics, economics, society, religion, science, arts, or history, all of these ingredients form the basis for a believable setting for your story to unfold.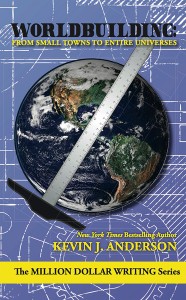 http://kjablog.com/wp-content/uploads/2015/11/558Cover.jpg 558w" sizes="(max-width: 186px) 100vw, 186px" />
We've also just reissued a long out-of-print classic on writing by Algis Budrys, master SF writer as well as mentor to many successful authors in the field today. WRITING TO THE POINT. The complete, concise guide to writing fiction that sells from one of the most popular instructors of the Writers of the Future and Clarion workshops.Get a master's competitive edge in the writing business.
Bestselling writer, editor and renowned writing teacher Algis Budrys, known as "AJ" to his many students, has distilled his fifty years of success into Writing to the Point. Write better stories. Fix mistakes in your current stories.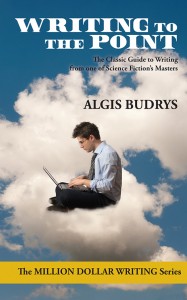 http://kjablog.com/wp-content/uploads/2015/11/558Cover1.jpg 558w" sizes="(max-width: 187px) 100vw, 187px" />
Writing to the Point contains all the writing articles that appeared in the classic tomorrow Magazine, re-edited and expanded. Algis Budrys taught hundreds of people at scores of workshops, was a well-known critic, editor, and author in his own right.
BOTH BOOKS ARE AVAILABLE IN PRINT FORM AND IN ALL EBOOK FORMATS