Nanowrimo Writing Tools bundle—12 books for $15
I've curated many novel bundles before, but this one is a very special toolkit for writers.  Storybundle.com has put together a massive batch of useful books that will help you survive—and thrive—during National Novel Writing Month. Twelve books on writing craft, productivity, and business—by eight bestselling writers, a TV producer, and more.  And you name your own price.
The NaNoWriMo Writing Tools Bundle is a treasure chest of books vital to your success not only in writing your novel in a month but in launching your long-term career as a successful writer. This is a toolkit, a drill sergeant, a mentor, and a cheerleading section, all in one.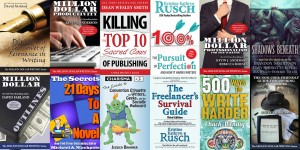 To help you write, and keep writing, there's Million Dollar Productivity by Kevin J. Anderson, 500 Ways to Write Harder by Chuck Wendig, and A Novel in 21 Days by Mike Stackpole.
To hone your craft as a writer, there's Million Dollar Outlines by David Farland, The Pursuit of Perfection (and How It Harms Writers) by Kristine Kathryn Rusch, Drawing on the Power of Resonance in Writing by David Farland, Shadows Beneath: The Writing Excuses Anthology by Brandon Sanderson, Mary Robinette Kowal, Dan Wells, and Howard Tayler, and The Non-User-Friendly Guide for Aspiring TV Writers by XENA producer Steven L. Sears.
To understand the business of writing and to build your career, there's Killing the Sacred Cows of Publishing by Dean Wesley Smith, The Freelancer's Survival Guide by Kristine Kathryn Rusch, Million Dollar Professionalism for Writers by Kevin J. Anderson and Rebecca Moesta, and Charisma +1: A Convention Etiquette Guide for Writers, Geeks, and the Socially Awkward by Jessica Brawner.
At storybundle.com, you name your own price and receive either the basic bundle of six books (minimum $5 bid) or all 12 books (minimum $15 bid) which are vital books to hone your writing skills and your business acumen in the writing and publishing industry. Available in all eBook formats, and *worldwide*.  In other words, pay $5 (or more) and get the first six; pay $15 (or more) and get the whole batch. And a portion of the proceeds goes to two worthy literacy charities.
It's something to read when you're not writing!