New edition of HOPSCOTCH
I just opened the front door and found a package on the porch—at last my copies of the new WordFire Press reissue of my novel HOPSCOTCH. This is one of my favorite novels, out of print for many years, although WordFire made it available as an eBook last year.  Now, those of you who prefer bound and printed editions can get your own copies.
And RUSH fans may be interested—much like my first novel RESURRECTION, INC, the story behind HOPSCOTCH also has a Rush connection, in that this was the first story Neil Peart and I started discussing as a crossover novel/album project.  Even though circumstances cancelled those plans, Neil is still acknowledged (and Rush fans may find a few details in the story, too…)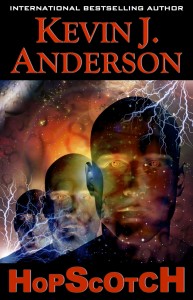 Print edition
Kindle
Kobo
Nook
Other eBook Formats
Suppose you could switch bodies with another person. What exciting new experiences would you choose to explore? What forbidden desires would you indulge? Suppose someone stole your life? Stole your body? How far would you go to get it back?
HOPSCOTCH is a pure adrenaline thriller of hijacked identities, elusive motives, and deeply buried secrets. Four friends on a journey through a futuristic world where body-swapping is commonplace  and the very definition of humanity has been changed: one an artist who wants to experience every aspect of life, one a seeker looking for her soul, one an inadvertent murderer who has to swap from body to body, always on the run … and one the friend who must hunt him down.
"Ingenious SF Fantasy"—Kirkus Reviews
"HOPSCOTCH is cracking good—swift, sure storytelling, with more plot twists than a snake and twice the bite."—Gregory Benford, Nebula-award-winning author of Timescape.
"Anderson delivers a taut, imaginative tale of SF acxtion and intrigue that blends a noir atmosphere with personal heroism and courage"—Library Journal