Picking the HELLHOLE AWAKENING Tour Cities
Brian Herbert and I have done a tour for every one of our novel releases; sometimes they are lengthy and extensive tours, sometimes they are shorter.  On some tours we go together, on some we take separate paths and hit different cities.
When Tor releases a new Dune novel, or launches the Hellhole trilogy, they send us on extensive tours to cover as much ground as possible.  Last year for SISTERHOOD OF DUNE, for example, we hit sixteen cities—Brian went to Seattle, Portland, Sacramento, Redondo Beach, Pasadena, San Diego, and Bellingham (WA), while I went to Denver, Minneapolis, Chicago, Dayton, Cincinnati, Atlanta, Orlando, Dallas, and Houston.
For HELLHOLE AWAKENING, the middle book in our Hellhole trilogy (which will be released on March 26), we have a different sort of tour—it's more of a thank you to all the fans who have supported us so much for so many years.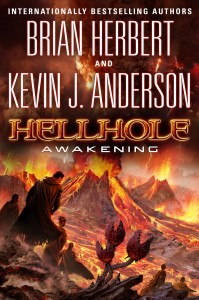 The very nature of bookselling and promotion is changing dramatically with the closing of the Borders chain, Barnes & Noble announcing the closing of another 100 stores, the rise of eBooks and online bookselling. Another factor: newspapers and local TV news have dropped most of their coverage of book events so it's nearly impossible to get any sort of media attention for a book signing (especially for the middle book in an original trilogy). Many publishers are dropping their author tours entirely. Tor will be devoting the biggest push to MENTATS OF DUNE next year.
However, because Brian and I have done our tours every year for the past dozen years, we've come to look forward to seeing familiar faces and new friends at each stop. And the fans count on it as well.  So, for HELLHOLE AWAKENING we worked with our publicist at Tor to look through all the stops in our past tours and chose those cities and bookstores that have consistently drawn the biggest crowds. That's the way we can make our one-week tour most effective. Brian and I will do the Seattle signing together before Norwescon; he will go to Powells in Portland, and I'll go to San Diego, Dallas, Houston, Atlanta, and Dayton.
See the FULL SCHEDULE. Please come out and see us.